Ergobaby Performance Ventus Baby Carrier $100, Reg. $175 Only Online @ Best Buy Canada!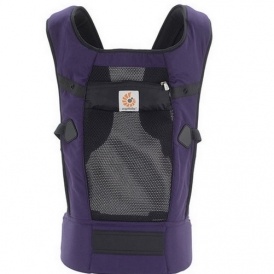 $100 including free shipping for this Ergobaby Performance Ventus Baby Carrier is a great deal, and you are saving $75 from the regular price of $175! Competitive retailers that are selling similar carriers in this brand to are charging around $160 - $185. The carrier is only available in black and purple but I doubt your baby cares! Just as long as they are safely carried around, and of course, close to you, they are happy.

This Ergobaby carrier evenly distributes your child's weight between your hips and shoulder. It cradles them in a natural sitting positioning and you can carry them in 3 different positions that include front, back, and hip! The moisture wicking mesh liner means better ventilation, so you and baby will stay cool! There is a one year warranty on this carrier for parts and labour.
Check out the specs for height and length maximums here:
Can carry newborns as long as an infant insert is used
Can be used up through toddlerhood or until your child reaches 45 pounds
Shoulder strap length range can be adjusted from 24-inches to 44-inches
Waist belt circumference range can be adjusted from 26-inches to 55-inches
Shipping is free!
(Deal expiry: June 21, 2016, While supplies last.)