$16.99 (6 Pack) Nature's Little Squeeze - Lets You Control What Goes Into Baby's Food Pouches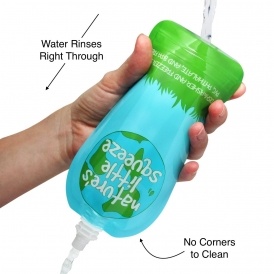 After reading about the recent Heinz Prunes recall, it got me thinking of a way to manage food for babies and kids as an alternate option where you have full control of what is put into the food containers and pouches.
If you have a great blender like this Ninja Master Prep that sells for just under $50 at Walmart, or any other blender that you're fond of, you've got it made to make foods that can easily go into these Nature's Little Squeeze Reusable Bags for food for babies, kids and even adults.
You can buy a 6 pack of these in assorted sizes, from 100 ml, 150 ml, 210 ml, and the variety bag which has an assortment of sizes, for $16.99. These are sold through Amazon seller WeeSprout and the order is fulfilled by Amazon.ca so shipping will be the usual fast manner that Amazon.ca offers.
With these pouches you can prepare and serve up healthier food options. You can fill them with applesauce, smoothies, yogurt, baby food, fruit/veggie purees, etc. These bags have an extra wide zipper-opening that makes filling and cleaning easy. You can fill them from the bottom not the top spout.
Here are reasons why this bag in particular is the one you will want for your child:
- When cleaning, water flows through the zipper opening and out the spout
- There are no pesky corners to trap food
- Dishwasher and Freezer Safe
- Pouches are top rack dishwasher safe
- For best results, rinse the pouches before loading in dishwasher
- Fill and store extra pouches in the freezer
- Strong, eco-friendly materials allow for repeated use
- Dual-zipper closure ensures against leaks
- BPA, PVC, lead, and phthalate free
- Pouches can be used again and again
- Save money and natural resources, compared to disposable pouches
- Packaging and pouches are recyclable
These pouches are the only reusable food pouch in the market that are backed by a 1-year, hassle-free guarantee!
Shipping is free at Amazon.ca if your order is over $25 on eligible products or is free if you are an Amazon.ca Prime member. Otherwise, shipping fees will start from around $4.25 or so.