Ninja Master Prep Blender Just $49.88 @ Walmart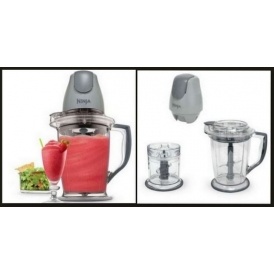 A food processor is cumbersome, wastes valuable counter space and has too many parts to store. A heavy duty blender that sells for hundreds of dollars doesn't seem worth it. I hated my $35-$40 blenders, the ones with a glass or plastic blender jar over a base, they never blended a smoothie properly!
Then one of my friends showed me her Ninja blender when she made a smoothie for her son. The way it performed, I was sure it was priced at hundreds of dollars. Always one for deals though, she happily said, "Nope. Under $50." $49.88 right now at Walmart, to be precise.
I ended up buying a Nina Master Prep blender, and have been happily using it for the past 18 months. I can speak from experience of ownership, the parts and pieces that come with this set are literally all you need. This is the blender you have been looking for.
For a smoothie comprised of frozen fruit, milk, and yogurt, the Ninja Master Prep powers through with ease. I make a smoothie almost daily for my kids, and it's still going strong. Thick ice cream milkshakes are no problem at all. The mini chopper container is handy for chopping onions, and cooked bacon. There is no set timer of any kind, but that is the beauty of it—you just press down on the top and hold to blend or you can pulse blend, using shorter presses for smaller tasks.
The motor top of the machine is used on both blending containers, so there are minimal parts and pieces to store. I would recommend storing the blades in the containers because they're very sharp! I find the Ninja Master Prep parts easy to wash by hand, but all parts are dishwasher safe and BPA-Free.
This product is under $1 away from receiving free shipping at Walmart.ca, so to get free shipping you can add product worth $0.13 or more into your cart for delivery right to your door, or, you can select to pick up in-store for free. You know what is always a good filler item to boost your order? Socks! These ones by Danskin are $9.97 for 6 pairs, and will be perfect for the summer months.