Deluxe Booster Seat For $21 @ Toys R Us Canada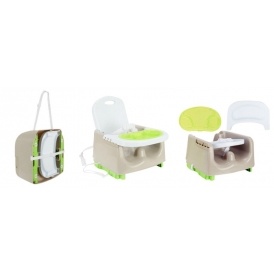 My son quickly moved from eating in a high chair to eating in a booster seat, and I always wanted an affordable one for bringing to my in-laws and such. If you find yourself in a similar situation, then get your hands on the exclusive Babies R Us Deluxe Booster Seat which is on sale right now from $34.99 down to just $20.97.
For under twenty-one bucks, you really can't go wrong. The Babies R Us Deluxe Booster Seat is a great purchase for your kids, or even as a shower gift for the future. It has 276 ratings on the Babies R Us website right now, with an average 4.5 star rating so you know you won't be disappointed with your purchase.
It also looks like the tray is easy to attach and detach, with an easy to clean liner that pops off for an easy wipe-down. Man, this booster seat would have been my dream come true when my son was little. He had a high chair with a fabric seat to it. It was quite a pain to clean it multiple times a day (after every meal). Here is one happy customer review from ToysRUs.ca:
I recently bought this booster seat for a family trip to Georgia. It's everything I wanted! Small and compact, and easy to put together. I may start taking this to restaurants with us...
You can either save $10 on shipping or try out the free in-store pickup with no minimum purchase.
(Expiry: Unknown)