$20 off $75 with Visa Checkout @ Well.ca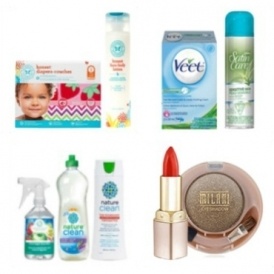 Whether you're a lover of Well.ca or have just been thinking of placing your first order, you'll want to check out this promotion! Until August 29, when you spend $75 or more at Well and pay using Visa Checkout, you'll save $20 off your total just by using the code VISA2016. It's as easy as that!
Remember, just as with the other promotions at Best Buy and Chapters, you don't have to have a Visa to use Visa Checkout. So don't think this is restricted to only Visa card holders.
I'm always perusing Well's Sales & Specials because they never fail me with fantastic savings. I wrote earlier this week about their Litterless Lunch Essentials and that sale is still on through Sunday. You could stock up for the new school year and save even more green! (Ha!)
If you're looking for a super solid backpack, Well has Parkland Backpacks on sale this week, too. I love this Parkland Meadow Black Polka Dot Backpack myself. It's down to $39.99 from $49.99.
Another of my favourites, The Honest Company, is up to 40% off and don't miss the Suncare Clearout, either. That late summer sun is still hot and steamy and it never hurts to have a spare bottle or two on hand for the winter in case you're lucky enough to take a vacation down south!
Also, apropos of nothing, I found this My Cinema Lightbox and am a bit obsessed. You slide interchangeable clear plastic letters and symbols in front of the retro-cinema-inspired light box to create whatever inspiring or imaginative phrase you want! So cute on your home wall or as wedding or celebration decor. It's $59.99. But top that up by $10 and save $20!
As always, Well.ca ships orders of just $29 or more free of charge. Don't forget to enter the coupon code VISA2016 on the final checkout page (just under where you'll select Visa Checkout) for your extra discount!