Updated: 05 July 2016 10:12
Toys From $5.94 - Amazon Prime Members Up To 60% Off Selected Toys! @ Amazon.ca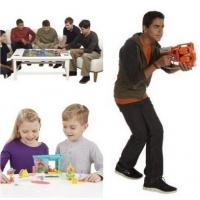 If you are already an Amazon Prime member, start reading from under the picture below, and onward. If not, you will want to read about becoming an Amazon Prime member!
If you have ever been waffling about becoming an Amazon Prime member, now is the time to decide to jump on-board. Amazon.ca is counting down the days until Amazon Prime Day on July 12th, and they are kicking the countdown off with some serious deals on a wide selection of toys if you are an Amazon Prime member. The good news is, you can join today and get in on these offers!
There is no obligation at all when you join, as Amazon Prime generously provides you with a free, no obligation 30 day trial that you may easily cancel at any time. (Unless you live in Quebec, where there is a 13 month membership available for $79.) I admit when I first signed up for my free trial, I had planned on canceling before I was charged the annual fee of $79...
That was over three years ago though, and I've been enjoying it ever since because the fee is very minimal in contrast to what I have saved in shipping fees. Over the years I have shipped gifts of all kinds to my family and friends, leaving personal notes that I am allowed to customize. It is such a handy service, I would never be without Amazon Prime now. There is also an unlimited online photo storage feature that you will want to look at. Other advantages to being an Amazon Prime member include early access to the (especially good) lightning deals that Amazon.ca offers on a regular basis.
Here is all of the information you will want to read if you plan on joining Amazon Prime. In order to get in on the deals listed below, you will need to be an Amazon Prime member, and you can quickly sign up during check out!
This is pretty much how I felt when I received my first package, shipped free, for being an Amazon.ca Prime member:
The infamous Risk game is a great game to sit and play with a pre-teen, teen or adult. It's on sale for $9.99 and has a list price of $33.59!
I can't think of a child who wouldn't really want this Nerf Zombie Strike Flip Fury zombie strike blaster that is selling for $19.99. The list price is $34.99. There is a great selection of Nerf toys, all of these can make summer a lot more fun!
For the younger set, this Play-Doh Town Firehouse is a flaming hot deal at $7.99, with a list price of $29.99. The Play-Doh Town Pet Store is only $5.94, with a list price of $19.99.
Check out our Christmas in July Amazon gift card contest that fellow Bargainmoose writer Brooke is inviting our Bargainmoose readers to participate in... You can win Amazon gift cards!
You will definitely see items you will want to purchase toys from this Amazon Prime membership toy sale, and with the free no-obligation trial that Amazon.ca Prime is offering to customers who sign up, you will be able to get in on these exclusive deals, plus, as is always the case with Amazon Prime items, shipping is fast, and free!
(Deal expiry: Unknown, while quantities last.)