Updated: 06 July 2016 15:44
Amazon Prime Exclusive Deal - Rubbermaid Food Storage, From $5.49 @ Amazon.ca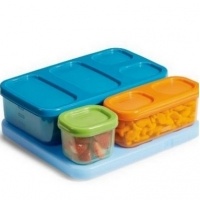 In celebration of the upcoming Amazon Prime Day on July 12, Amazon.ca is offering some great deals, and today only you can buy from an assortment of Rubbermaid products, starting from only $5.50 and up.
With our Bargainmoose Live Blog Page we will keep you in the loop on Amazon Prime Day! This is the best source on the internet to find your Amazon Prime Day deals with our continuous, live, updates! Bookmark this link and share with your friends.
This is a great way to stock up on supplies needed for lunch kits in the fall. This Rubbermaid LunchBlox Kids Flat Lunch Kit, Food Storage Container, BPA-free Plastic, Blue is perfect for lunches for kids of all ages, and is selling for only $13.99, down from $17.99. The ice freezer pack that snaps on is perfect, we use this in our home, and it gives peace of mind for keeping cold foods at a safe, cold temperature.
You may purchase these items only if you are an Amazon Prime member. You can sign up for a free 30 day trial (with no obligation) today, to get in on this deal if you are not yet an Amazon Prime member.
If you have ever considered becoming an Amazon Prime member, now is the time to decide to jump on-board. Amazon.ca is counting down the days until Amazon Prime Day on July 12th, and they are kicking the countdown off with some serious deals that are only available to Amazon Prime members.

Shipping is free on all items listed as Prime eligible!

(Deal expiry: July 6, 2016)