Updated: 07 July 2016 08:13
Amazon Prime Exclusive! Anker Power Core Jump Starter $95.99 @ Amazon.ca (EXPIRED)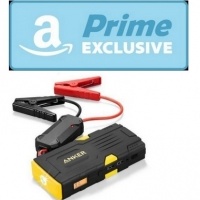 Only 5 more days now until Amazon Prime Day! Look at this great deal today that is being offered in a count down to Amazon Prime Day...
With our Bargainmoose Live Blog Page we will keep you in the loop on Amazon Prime Day! This is the best source on the internet to find your Amazon Prime Day deals with our continuous, live, updates! Bookmark this link and share with your friends.
Three weeks ago I had parked my vehicle at the grocery store to pick up some groceries. As soon as I started the vehicle, I was stunned that it suddenly wouldn't start. I was parked in a spot where it was very difficult for vehicles to get near me for a boost, without impeding the incoming and outgoing traffic.
I wish I had the Anker PowerCore Jump Starter 600 at the time, it would have gotten me on my way quickly, instead of relying on a roadside assistance service that took over an hour and a half to arrive.
The price on this rather necessary auto accessory is only $95.99 with free shipping, down from $129.99. With 41 customer reviews giving rave reviews on Amazon.ca, you know this is something you should have on hand.
Besides an 18 month warranty, this Anker Jump Starter has the following features:
Jump start your vehicle (up to 5L gas or 3L diesel, 12V engines) up to 20 times with 600 amps of peak current and heavy duty clamps and cables. Compact enough to store in your glovebox.

Portable USB Charger: With 15000mAh capacity and our adaptive PowerIQ charging technology, charge phones, tablets and other devices at speeds of up to 2.1 amps per port or 4.2 amps overall. Recharges in just 5.5 hours using the included wall or car charger.
The only way to order this it to have an Amazon Prime membership. Click here if you don't yet have one. This deal is a good one as it is one that is leading up to Amazon Prime Day on July 12th.
Shipping is free!
(Deal expiry: July 7th, 2016, or while supplies last.)