Villeroy & Boch Canada: Allegorie Premium Wine Glasses Were $60 | Now $22 (EXPIRED)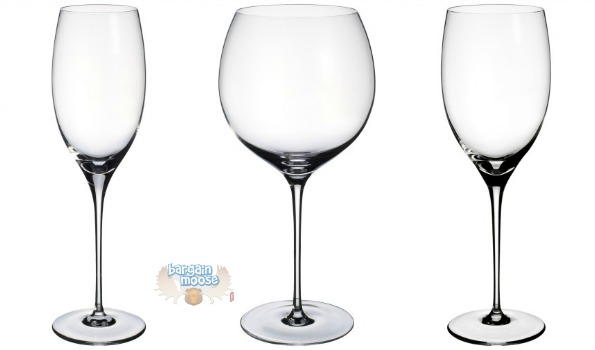 Villeroy & Boch is having a flash sale, which ends today at 2pm EST. You'll get 25% off everything, with the discount showing up in your cart. I found a very hot deal on these Allegorie Premium wine glasses, which were $60 and already on sale for $29.95. In your cart, each glass will discount down to $22.49.
I need a nice wine glass to enjoy my wine. My husband has drank wine from plastic cups and enjoys it just as much, but I need the full experience with a nice glass. I even find when drinking from glass, the wine does not taste as nice - I need crystal and I need a nice looking glass too. Of course, if I don't have the right glass it won't stop me from drinking, but I really enjoy the perfect wine glass.
There isn't much information on these glasses on Villeroy & Boch's site, but as you can see from the photo, they are a very simple, long and thin stemmed glass with a classic style made from crystal glass. I think they are beautiful and am imagining drinking a nice vintage from these.
There are different styles of glasses for each type of wine, all with the same price point.
I think a few of each glass would be the perfect way to stock your glassware. This would make a fantastic gift for a wedding, as a bride and groom would definitely appreciate having their glassware stocked with beautiful glasses that they no doubt wouldn't buy themselves after paying for a wedding. In fact, I got most of the glassware I have now from my wedding.
Shipping is free on a $250 purchase, which is about 11 glasses. Otherwise, you are looking at a $20 delivery charge for your order. You could also see what else on the site piques your interest, as everything will be discounted by that extra 25% off in your cart until 2pm today.
(Expiry: 31st March 2015 @ 2pm EST)