Trendy Scarves From $5.99 @ Bluenotes Canada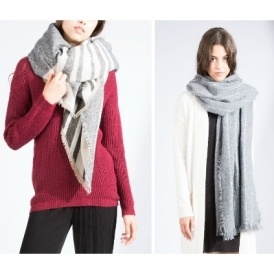 Scarf season is upon us, and I am stocking up on my new fall trends during the Thanksgiving Sale at Bluenotes. For a limited time, you can shop at Bluenotes Canada Online and get 40% off the entire store - but seriously, the trendy scarves are where it's at. The scarves start at $5.99 with the discount.
I bought this Women's Triangle Plaid Scarf which is $8.99 down from $14.99. This one works as a scarf, a wrap, or even a mini blanket. I love them with that kind of "thrown around your neck" look, and for $8.99 I've bought a few colours to help me look and feel warm.
For a different style, I'd grab the Knit Fringe Infinity Scarf which will run you $7.79 down from $12.99. This would even be good for that seriously trending and professional look for the office.
You can even grab the Men's Plaid Scarf for the hubby for $5.99 with this discount down from $9.99. Don't tell anyone, but I grabbed this one for myself too!
Get free shipping on orders over $100.