Multi USB Cable For Only $3.99 & Free Shipping @ Eforcity
Here's a little deal on a little cable @ Eforcity. You can order this handy USB cable with multiple connectors for only $3.99, with free Canadian shipping! Here are the details: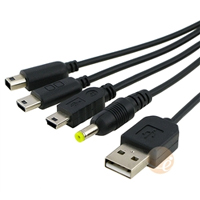 Coupon Code: EFWS092120
Discount: Cable for $3.99 & free shipping
Expires: 29th September 2009
Eforcity is a US site, but ships to Canada. As shipping is free with the coupon code, this is a great deal. Just make sure you leave the shipping method on "standard shipping."
I thought it would be a very handy cable if you have lots of different USB devices which you use in the home. For example, my ebook reader, my graphics tablet, and my digital camera all connect to the USB port in the computer, but they don't all have the same connector.
The blurb on the eforcity page refers specifically to gaming devices, such as your Nintendo DS and PSP, but these are standard USB cables, and as far as I know, can be used for anything.