HP Ladies Tote $24 and More @ 40% off Accessories@ HP Canada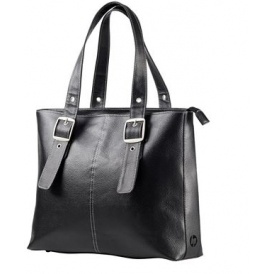 HP Canada is one of my favourite online shops for tech. products and a 40% discount code on accessories is available for you right here! Use code ACCMEGA16 during checkout and make sure to apply the code to each item if need be.
My purchase today is going to be this smart looking HP Ladies Tote in a classic black. It's $40.48 so with your coupon code you'll pay $24.29. HP Canada has free shipping with no minimum purchase so that makes this an even better deal.
Here's an HP USB External DVDRW Drive that we mentioned before but it bears repeating because it's something every family needs to have on hand. It's frustrating when a disc drive on a pc suddenly stops working, (or won't read the disc correctly) or, when you're using a netbook that doesn't have an optical drive. This USB external drive also can burn data to a DVD-rom disc and at a decent price. This is $32.99 after the 40% discount is applied.
Another good deal is the ultra portable HP Roar Speaker. I don't have this one myself, but my sister does and it packs a punch! It's on sale for $41.99 with the 40% savings code.
Shipping is free!