How cute is this Manatea Tea Infuser!? Just $4 shipped @ Amazon.ca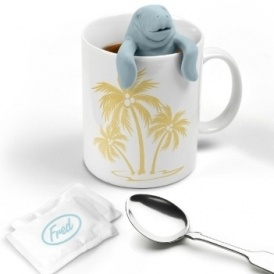 I have recently been reading and wanting to try some new teas from DAVIDsTEA or Teavana. I've even read about some detox teas that I have wanted to try. To start, I will need an infuser. How cute is this Fred & Friends Manatea Tea Infuser!? It is just $3.37 including shipping - and now every morning your tea will make you smile.
The Manatea infuser is just the best. It is made of silicone that is both soft and food-safe. It also won't taint the taste of your tea at all. It will cutely perch on the rim of your tea cup. You won't have to fish it out of your mug, it has a super cute face... and it is even microwave and dishwasher safe. For $3.37 - can you really go wrong?
The reviews had me convinced. I mean, I am not sure how complicated a tea infuser can get... but I am sold on this one. Reviews do say that a small amount of loose tea particles will end up in your brew in most cases - but that seems to be the case with most tea infusers that I have been reading about.
This item is shipped and sold by Suidcsui. It is authentic though - the belly area of the adorable tea infuser should read "Fred & Friends". Because this item is sold by a market place seller on Amazon.ca, you'll also receive free shipping on this purchase.
(Expiry: Unknown)