Great For Camp! Disney Backpacks and Lunch Box just $7 @ Walmart.ca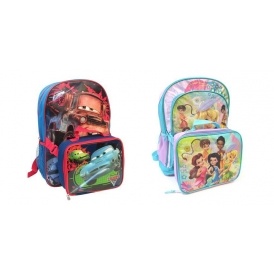 Quick, these Disney Cars and Fairies backpack/lunch box sets are selling fast! They are on clearance right now for just $7 at Walmart!
Click here to shop for the Disney Cars backpack/lunch box set
Click here to shop for the Disney Fairies backpack/lunch box set
Though the school year is winding down, there's always a good use for a backpack and lunch box for the littles. These would be great for day camp, road trips, even quick over-night visits to grandparents' houses.
I find my school-age kid is super hard on these kinds of bags, but her metal lunch box is not the best for car trips or day trips to the beach or park. These sets are perfect for that, and at this price I don't mind if they get a little banged up!
Shipping will cost you unless you spend over $50, but you can ship them and pick them up at a grab and go location at Walmart, Canada Post or 7-Eleven for free.
(Expiry Unknown)