BOGO 50% Off On Outdoor Cushions @ Lowe's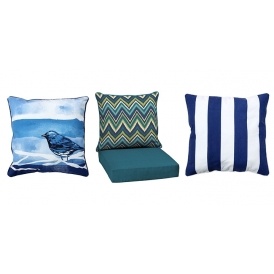 Seems to be the weekend in my neighbourhood where everyone is sweeping the winter dust off porches and dragging out the outdoor furniture. It's finally spring!
Lowe's has a great little promo on until April 20—buy one, get another for 50% on all outdoor cushions and pillows. I was a little confused when I tried out this promo in my cart before I realized that the discount is shown on single items as percentage savings for Buy One Get One Sale. The benefit of marking the discount this way is, of course, you don't even have to buy two in order to get the savings.
I'm kinda choosy about my outdoor decor, I treat it just as I would my interior space. So although you can find outdoor cushions for a little bit less elsewhere, I find the selection at Lowe's to be on trend and attractive enough for my discerning taste!
Love this Allen & Roth Blue Bird pillow, it's so unique and I'm a bit of a crazy bird lady—with the BOGO discount it's $18.75. I'd mix it up with this gorgeous floral pillow, which is just $15 with discount. This two cushion chevron set looks comfortable and cool—you'll save $17.50 off the original price.
There are a ton of different cushion styles at Lowe's—lounge chairs, outdoor dining chairs and even bolsters. These little tie-on cushions are just $15 and reversible, so pretty!
Pillows and cushions qualify for free in store pick up if that's a good option for you, otherwise spend $49 to qualify for free parcel shipping.
Do you spend as much time decorating your outdoor space as you do indoors?
(Valid through April 20, 2016)