Ardene Canada: $10 off $40, Many Multi Buy Deals, Free Shipping on $59.99, Etc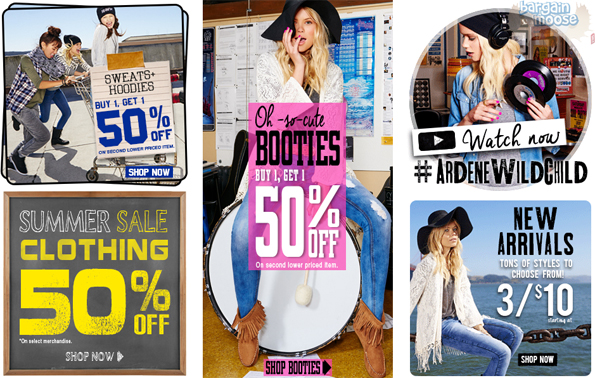 Over this weekend only, there's an automatic discount of $10 when you spend $40 or more online at Ardene Canada. This is an automatic discount – just pop items in your shopping cart and you will see the discount amount appear, as if by magic. :)
The $10 off $40 is a pretty good deal in and of itself, but you might be interested to hear that it works ON TOP OF all their multi-buy deals * summer sales illustrated in the image above, such as:
There is also a denim event happening just now, in which you will get a 15% discount on any order of$35 or more when you buy a pair of denim shorts or jeans.
As for shipping from Ardene Canada, any order of $59.99 or more will get free Canadian shipping.
Even though Ardene definitely caters to the younger market, there are still some pieces on there that I can see myself wearing. One always needs flip-flops, and they have a really cute and colourful range on there. The likes of these basic sneakers are a good footwear wardrobe staple too. My eye caught these red jewel flats, I like those.
One thing that I've noticed when shopping online at Ardene is that stock levels seem to be quite low. When we are testing a coupon code at an online store, we tend to throw 6 of one item in to the cart and check to see if a coupon works, before we tell you about it here on Bargainmoose. With Ardene, when I add any more than one item to the shopping cart, it almost always says that there is not enough stock available. This means that stock could be limited, so order sooner rather than later.
(Expires 24th August 2014)