March 26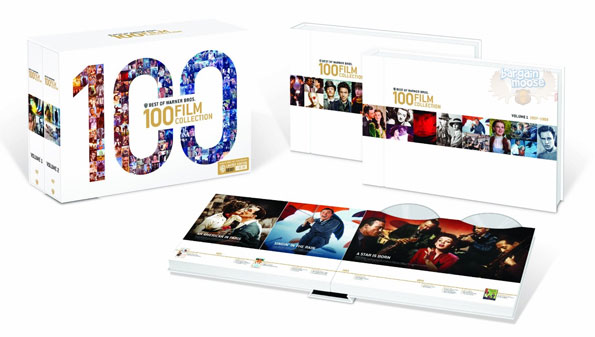 Calling all movie buffs, here's an offer from Amazon that you definitely won't want to miss! Until the end of the day today, you can save a whopping 73% on the Best of Warner Bros. 100-film collection. Originally priced as high as $599.99, it's now down to just $163.99 — wow! Plus, it comes with absolutely free shipping.
If we think about it this way, each movie was originally $6 but is now down to just $1.64 per movie — pretty amazing if you ask me.
This is the world's largest film collection on DVD and also includes all 22 of Warner Bros.' Library's Best Picture winners. These are presented in a book via 55 discs, along with two documentaries:
Tales from the Warner Bros. Lot
The Warner Bros. Lot Tour
The selection of movies range in years, with the oldest one being from 1927, The Jazz Singer, and the most recent one being 2006's The Departed. Luckily, once you click over to Amazon's site, all of these are arranged from the oldest to the most recent.
Here are just some of the oldest movies:
The Jazz Singers (1927)
Broadway Melody of 1929 (1929)
The Public Enemy (1931)
Cimarron (1931)
Grand Hotel (1932)
And some of the most recent ones:
The Departed (2006)
Million Dollar Baby (2005)
The Notebook (2004)
Harry Potter and the Philosopher's Stone (2001)
The Matrix (1999)
The first Lord of the Rings movies are also all included: The Fellowship of the Ring (2001), The Two Towers (2002) and The Return of the King (2003).
Other noteworthy movies that are sure to excite some of you include but are not limited to:
Superman, The Movie (1977)
The Shining (1980)
The Outsiders (1983)
Full Metal Jacket (1987)
Lethal Weapon (1987)
Driving Miss Daisy (1989)
Batman (1989)
I have to admit that I was definitely surprised to see "Interview with the Vampire" from 1994 on the list. It's definitely an amazing movie that is worth watching but it's still kind of surprising that it's on the list of the best movies, isn't it? Although then again, I guess it's not that surprising considering that both Brad Pitt and Tom Cruise are in it!
(Expiry: 26th March 2015)