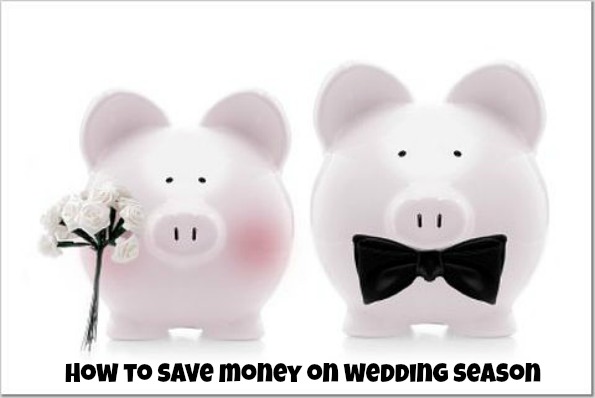 Let's face it, wedding season is well upon us.
One of my friends has a wedding to go to each weekend in June.  We all know how expensive being a guest at a wedding can be (not to mention actually being in the bridal party).  According to the Yahoo Finance, in 2013, the average cost for a guest to attend a wedding is $539.  Last year it was only in the $300's.  The cost of gas and inflation has certainly affected this.  Either that or people are getting more flashy.  This factors in buying new clothing to wear to the wedding, buying the wedding gift, possibly taking time off work to attend the wedding, and also arranging for transportation (e.g. a flight or gas money) to get to the wedding venue.
The breakdown, according to Yahoo, is $97 on a wedding gift for a friend (and $147 on a family member) and 32% of wedding guests give this in cash as a gift (which over 50% of couples are happy with).
If you don't want to be part of the statistics who spend on average $539 to attend a wedding, it certainly helps to plan.
Here are some tips on how to save money on wedding season:
Get the Outfit and Shoes Ahead of Time
This is probably one of the best ways to save on your wedding guest budget.  Plan ahead of time.  The last thing you need is a frantic trip to the mall grabbing anything that would look decent but might not be at an optimal price.  Shop at end-of-season sales from the year previous for the following season's wedding.  Have a dress swap with your friends- this is one of the best ways to get new clothes into your wardrobe and best of all, it's free!  Also, find a pair of shoes that will work great with any dress you wear.  Don't buy new shoes for each wedding!  (Unless you are a shoeaholic and you would like an excuse to buy new shoes).
Avoid "Keeping Up with the Joneses"
It's probably safe to say that when you give a cash gift, people tend to spend more because they don't want to look too frugal or cheap.  Opt for something sentimental and thoughtful instead of flashy.  Photo frames and something for the home or a experience gift (maybe not a Groupon) can be a great idea.  The bride and groom just want their friends and family there to celebrate their big event.  It's not a cash grab to pay off their wedding.  At least it shouldn't be!
Don't Stay with the Bride and Groom 
If you're attending an out-of-town wedding, the bride and groom may suggest a place to stay that may be out of your budget (or within your budget but too pricey).  You are not obliged to stay at the fancy place they choose.  Savvy Sugar agrees, stay somewhere else.  Do your research to find a reasonable place to stay.  Check out websites like Airbnb, Hotwire, Priceline, and Hotels.com, which are some good options for discounted accommodation.
Chip In On a Gift
This is by far the best option, especially if you're going to the wedding with a group of friends.  If everyone chips in a smaller amount, you can get the larger big ticket item (e.g. like a stereo system or some nice kitchen appliances) and  or buy an experience (e.g. a helicopter ride or a zipline ride) that they won't forget.  Just be careful you buy a gift or an experience, because chipping in and amalgamating cash is kind of cheesy.
Get to the Gift Registry Early
The Loop suggests that guests hit up the gift registry early.  That way, you'll have more selection to choose from and you won't have to be stuck spending $250 on the kitchen appliance that they won't ever use anyway or the $800 home theatre system (yes, I saw this on a gift registry once).  Also, if you wanted to buy the item at another place (especially if it is generic) you can always ask that the item be removed from the gift registry.
You either hate or love weddings, love it because it's a time of fun and celebration and hate it because it can be a huge wallet gauger.
Bargainmoosers, do you have any other tips on helping your budget survive wedding season?