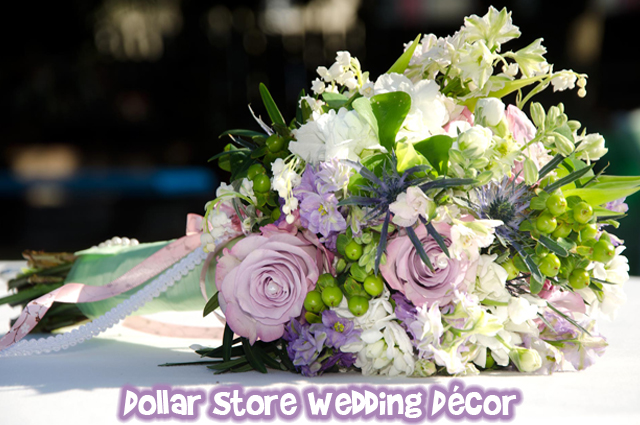 Christmas, New Year's Eve, and Valentine's Day have come and gone, and now is the time for all you recently engaged brides to start planning for your big day. Even if your wedding isn't for another year or two, from one bride to another, the coming months will go by faster than you think, so the sooner you start getting everything together the better. My wedding is only a few short months away and lately my weekends can be summed up with three little letters: D-I-Y. I'm definitely no Martha Stewart, but I am a frugal bride who will do anything to save a buck, and I've saved hundreds of dollars so far by making my own decorations with materials from the dollar store. If you don't mind getting your hands a bit dirty, and can stand spending a few nights cutting, gluing, and bedazzling, then you might want to try out some of these cheap and easy-to-make creations for your wedding day too.  
Chalkboard Sign ($10 - $15)
If you've ever been on the wedding section of Pinterest, then you know that chalkboard signage is all the rage right now. And it's a good thing too because it's both cheap and easy to make at home. All you need is a bottle of chalkboard paint from your local craft store ($8 - $10), and either a metal serving platter or a large picture frame from the dollar store ($2-$5). It's recommended to coat the surface of the platter or frame at least 3 times before using. The bonus with this type of signage is not only will it give your wedding a hint of trendiness, but you can also easily wipe the board clean and write something new on it to use again and again. Cheap and reusable? Now that's my kind of craft!

Floating Candle Centerpieces ($20)
Any wedding magazine will tell you to set aside 8% - 10% of your budget for flowers, but the thought of spending $1,000 on flowers for a one day only event just boggles my mind. Instead, you can save your money and make your own floating candle centerpieces instead. To put it together you'll need 3 vases ($2 each), a bag of small rocks ($1), 3 floating candles ($5 for a 24 pack), and an orchid with multiple blooms ($10). After gathering all of these materials, it literally took me 10 minutes to assemble and the candles lasted about 6 hours before they burnt out.

Paper Banner ($5)
The great thing about the Internet these days is that there are a number of websites that have free printables that you can use. I used the printables from Shanty 2 Chic's website, and printed the words "JUST MARRIED" using my ink jet printer. You can go fancy and buy some shimmery or textured paper from the craft store, but I just used some regular white printing paper for the letters, then spent $5 on some colored card stock to give it a pop of color around the edges.

Wedding Card Box ($5 - $20)
I'm not doing a gift registry for my wedding, but instead am following the popular trend of only accepting cards or monetary gifts. I may not need to worry about setting up a gift table anymore, but I do need a nice looking box for guests to drop their cards into. So far, my two favorite ideas for this are the vintage suitcase and the mailbox card box. Not only are they both very unique looking, but you can also find either of them for cheap or free on Craigslist or at a garage sale. Another idea that is equally frugal friendly and unique is the faux present card box. It's great because all you need to do is wrap a few boxes together like a present, cut a slit in the top, then put it in the recycling bin when you're done!

Bargainmoosers, what other dollar store creations can you suggest to all the future brides out there?
(Image credit: rkirbycom; welcometogirlworld; etsy; ruffledblog; weddinglands; shanty2chic; ohmy-creative; etsy; synfullydelicious)