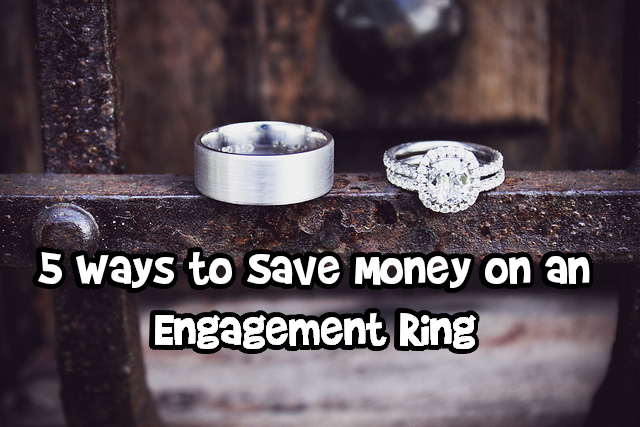 I believe that most people are surprised with a beautiful engagement ring and a surprise proposal, however, with the push and drive toward more equal and egalitarian relationships, where the person being proposed to has a bit of a choice in the matter (or sometimes a lot of choice in the matter), more and more couples are going engagement ring shopping together.  This seems to be more common than I thought previously.  According to Daily Mail (a United Kingdom publication) about one in three couples go engagement ring shopping together where the woman chooses her engagement ring.  That is 33 percent of couples, which is fairly high.
So if you are one of the 33% of couples who is planning to shop for an engagement ring together, here are some ways to save money on the engagement ring:
Know the 4 C's
Knowing the 4 C's is very important.  If you're not clear (no pun intended) on the 4C's, they are: Colour, Cut, Clarity, and Carat.  Cut is king obviously.
But to save money, this episode of Sesame Street is brought to you by the letter "H" and the other letters "SI1".  With an H or an I colour, according to Time, it is slightly yellow tinged but barely noticeable.  Instead of a D E  or F colour, which will add thousands to the cost of the engagement ring because they are so white, an H will save you money.  Besides, some people prefer the warmer colour of an H to the fiery white-ness of the D, E, or F.  Finally, with SI1 for the clarity, it means that it is flawless to the naked eye.  Unless you have 10x zoom (which most people don't) you won't be able to see the inclusions in the diamonds, hence you will save more money.  The VS or VVS diamonds cost much more because there are minimal inclusions, but if you can't see it anyway with the naked eye, why bother adding unnecessary cost to your already expensive engagement ring?
Shop Online
According to Business Insider, online diamond stores can offer savings between 20-40% from the typical brick and mortar shops where people traditionally go shopping for engagement rings.
Sites like Blue Nile, Brilliant Earth, and James Allen are all from the United States but they provide free shipping to Canada (and in many cases around the world). They also have a great return policy as well.  James Allen and Blue Nile both have Canadian diamonds, and Brilliant Earth and James Allen are clear that their diamonds are conflict free.  With James Allen, you have the added bonus of seeing your diamond up close to see if there are any inclusions or flaws that might be visible even to the naked eye.  The only downside is that our Canadian dollar hasn't been stacking up to the US dollar lately so there is a bit of an added exchange cost.
With online websites, you can customize the carat, the clarity, the cut, and the colour and select the prices that work for the budget.  You can maximize the 4C's with much more options than available at a traditional brick and mortar shop.
Don't Go for the Round Numbers
Instead of opting for 1.0 carat or other round numbers, choose a ring that is "just shy" of the next carat up.   This is called "buying shy" according to the heavyweight wedding website, The Knot.  For example, a 0.95 carat is barely different from a 1.0 carat yet can be thousands of dollars less expensive than the full carat.  Same goes for other round number carats, like a 1.5 carat for example.
Go for the 14K Instead of the 18K
Platinum is the most expensive metal for the setting, then it is 18k gold.  Although 18k gold is more expensive, 14k gold is actually more durable and softer.  Although 18k gold is technically purer than 14k gold, it is usually harder and actually has less longevity than 14k gold.
Skip the Diamonds
Finally, instead of supporting the notion that 'diamonds are a girl's best friend', opt for non-traditional gems, such as sapphire, or emerald.  Thankfully Kate Middleton's beautiful sapphire engagement ring has made the non-diamond engagement ring much more desired and common.
One thing to make sure you don't skimp out on is the GIA (Gemology Institute of America) certificate.
Bargainmoosers, how did your partner save money on your engagement ring?
Photo credit: Eileen Rivard