Up To 70% Off Valentine's Gift Sets @ StrawberryNET (US) & Free Canadian Shipping!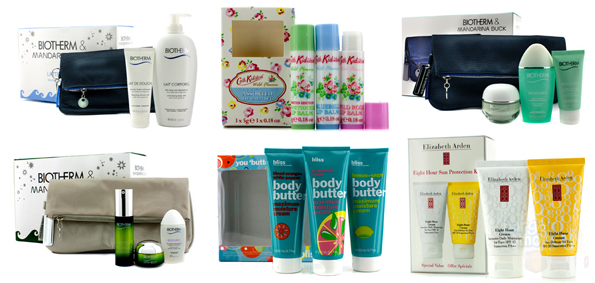 Here on Bargainmoose, we've got a dedicated email address signed up to various companies from all over the world, and we keep our eyes peeled for good offers for Canadians. I spotted one this morning from StrawberryNET, the US based site which sells cosmetics, beauty products and more. Just now, they've got a pre-Valentine's sale on their gift sets, in which they are offering up to 70% off select items. PLUS, there is free worldwide shipping on all of these items!
StrawberryNET offers free shipping worldwide on all orders that are not fragrance-only orders. So, even if you order a small, low-value gift set such as this Cath Kidston Star Collection Lip Gloss Set (44% off) which is $11, that would get you free Canadian shipping – sweet!
In the gift set sale, you can choose from various categories such as skincare, make-up, perfume and men's cologne.
Fragrance Discount & Shipping Surcharge
There's a catch if you are ordering any of the fragrances though, and it gets a little complicated. Any fragrances get an extra 10% discount which is automatically applied at checkout. However, fragrance sets incur an extra $10 shipping surcharge at checkout. If you add any skincare, makeup or hair care product and your cart totals $35+, then free shipping will apply, once again. Keep that in mind when choosing your items!!
Example Deals
Customs & Duties Etc
If there are a few items you are interested in buying, split them into individual orders. That way, you will have less chance of your order getting stopped by customs and having to pay extra fees at your door. Technically, any order over $20 is liable to get hit… but as we all know here on Bargainmoose, you aren't always picked on by customs and you can receive many items without any extra fees or trouble.
StrawberryNET Volume Discounts
StrawberryNET has a volume discount program, in which you get a little extra discount when you add more items to your shopping cart. E.g. Add 2 items, get a 1% discount on the order total. However, if you're buying more items in one order, then you're taking a higher risk of getting stopped by customs, as I mentioned above. I'd probably recommend you keep your orders small, as getting hit by customs would be a greater cost than the savings of the volume discount.
(Expiry: Unknown)