Shutterfly: 20% Off Personalized Keepsake Boxes For Valentines Day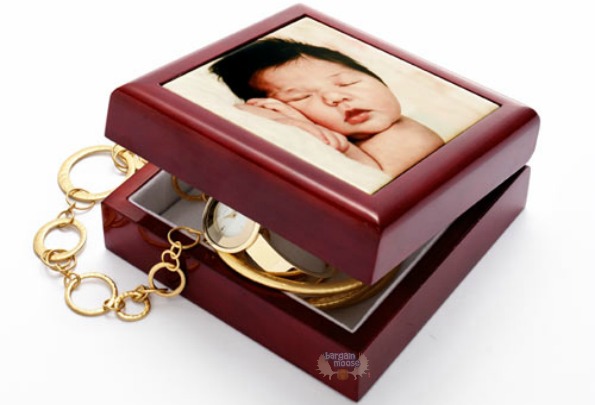 If you are looking for a unique, but personalized gift for your lady, check out these photo keepsake boxes from Shutterfly. They were $29.99, now $23.99. Note that prices are in U.S. funds.
As soon as I saw this, I thought it was such a special gift idea. Not just for Valentines Day, you could give this as a shower gift, new baby gift or any other sort of gift. It would also be really sweet with some sort of keepsake inside, but I think it is also just fine on its own. Made of imported oak with a mahogany lacquer finish, it has soft felt on the inside. On the lid, you'll add a precious photo.
While Shutterfly ships from the U.S., I have ordered from them many times and not ever experienced duty charges. This doesn't mean you won't, I'm just retelling my experience. Since this is a deal on without a coupon, you can use the coupon SHIP30 to get free shipping once you spend $30, so spend a little more and save yourself the high shipping cost on this item.
You don't just have to take my word on this being a really perfect gift idea. Check out the reviews, especially this one that sums it up nicely:
Upon recently becoming a new mother, i went on Shutterfly to order some pics. I stumbled upon this keepsake box and decided to order to keep some of baby's precious mementos. It arrived in the mail today, and it was absolutely perfect. It really exceeded what i originally expected. The picture tile on top is sturdy, great quality, the wood is beautiful and the fabric inside is just perfect. I would definitely recommend this product to anyone, makes a perfect gift.
(Expiry: 27th January 2014)