Red Rose and Lily Bouquet Now $59.99 & Exclusive Free Shipping @ 1800Flowers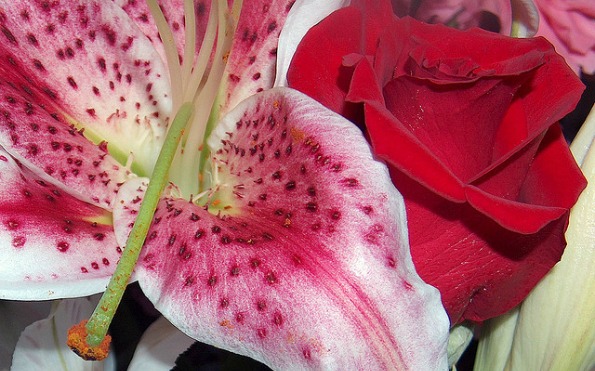 Love is in the air, mon chéri. Order the Modern Embrace Red Rose and Lily Cube for $59.99 @ 1800 Flowers. Here at Bargainmoose we snagged you an exclusive coupon code that will give you free shipping on any order of $59.99 or more just in time for Valentine's Day. This saves you $14.99 on your order.
Click here to buy the Modern Embrace Red Rose and Lily Cube @ 1800 Flowers
Coupon Code: MOOSESHIP
Discount: Free Shipping on orders of $59.99
Expiry: 12th February 2015
Ah, love! What better way to celebrate your everlasting love than with a great deal on flowers. The beautiful Modern Embrace Red Rose and Lily Cube are sure to be loved by your sweetie. This bouquet is $59.99 but with our exclusive coupon code, you will be able to waive the shipping and handling fees. That makes your grand total $59.99 on the bouquet. This beautiful bouquet comes with deep red roses, beautiful pink lilies and a little greenery.  It also includes a sleek cube shaped vase. I would put a candle, colorful stones or shells in that vase long after the flowers are gone and use it to decorate my home.
I am a little partial myself to the pink lilies in this bouquet. This type of lily is known as Stargazer Lillies. I picked Stargazer Lilies as the centerpiece flower for my wedding decorations and bouquet. We received many compliments on the beautiful flowers and were very happy with the beautiful scent. Stargazer Lilies are very fragrant and have a beautiful tiger freckle pattern in a dark pink colour on the light pink petals. They pair nicely with the roses and should create a very fragrant bouquet for your sweetie. My husband still picks up Stargazer Lillies for me on our anniversary.
With flowers, it can be trickier to compare prices since shipping and handling fees can range from $15 to $20 per bouquet. These fees help ensure your flowers are delivered fresh and are kept safe from the elements. If you are thinking of shopping elsewhere for a similar bouquet, here is what I have found.
Canadian Flower Delivery has a similar bouquet with lilies and roses in a cube shaped vase they call the Starshine Bouquet. The bouquet is a pretty mix of pink, red and white flowers that any sweetie would love. This bouquet starts at $63.99. Canadian Flower will tack on an additional $14.95 in shipping. That will bring your grand total to $78.94 before tax.
Teleflora has a bouquet called Teleflora's Sunsplash that includes yellow lilies and roses in a variety of colours for $59.95 also. The colours are not really Valentine's Day themed like the one at 1-800 Flowers. In addition, you will pay an extra service charge of $16.99 at Teleflora. Depending on what day you choose to have the flowers delivered the fee can vary. If you want the bouquet in time for Valentine's Day you will tack on an extra $1-$4 depending on the delivery day. That means the grand total would be closer to between $76.94 and $80.94 before tax.
I think your best bet is to grab this deal at 1 800 Flowers. Remember this coupon code is also good for any bouquet over $59.99. If you are looking for a different arrangement for your sweetie, it is worth taking a look around at 1 800 Flowers. Those extra high shipping and handling fees other places sure add up quick.
Bargainmoosers, what types of flowers make you think of a happy memory?
(Image Credit: Kimberly Brown-Azzarello)