American Apparel: Up to 90% Off Valentine's Lingerie Specials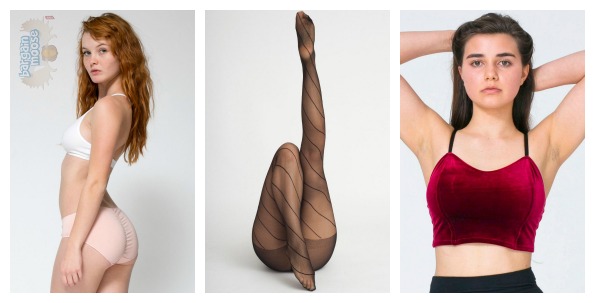 American Apparel is offering up to 90% off Valentine's Day special items. These are mostly lingerie items like panties, bras, and hosiery.
In the underwear section, there are plenty of wonderful deals. The Baby Rib Flat Bottom Panty makes a good addition to your basics wardrobe. While basic, there is a ton of colours to choose from! Select colours are on sale from $12 down to $5 - $7. I found the black, orange, lime, silver, white, red, purple, royal blue, brown/nude and pink/brown are all on sale for just $5 each.
For something a little more romantic - it is Valentine's Day after all - the Stretch Floral Lace Thong is on sale, in select colours, from $18 down to $7. While I am not a huge fan of thongs myself, I like how high-waisted this one. It looks very comfortable. Nude, dusk, navy, black, truffle, and red are all on sale.
Are you on a budget? The Baby Rib Bikini Bra is your best friend as it was $12, and is on sale for just $4. Limited sizes are still available. This Shiny Ruched Front Tube Bra was $18 and is now on sale in select colours for $5 or $11. There are many colours available at the cheaper price including kelly, silver, copper, and red.
My favourite sale section is the hosiery! I think I have enough bras and underwear to last me a century, but I always wear through my tights and stocks. Either my boots rub up against the side of the ankle and make a hole or I end up putting a nail through the delicate fabric. Therefore, I am always in the market for new hosiery. The Sheer Luxe Zig-Zag Shapes Pantyhose have a great side leg design and are on sale for a very reasonable price. Originally $30 each, they now cost $9.
For something a little plainer, the Opaque Pantyhose in a multitude of colours are on sale from $17 down to $5, in select colours. Paprika and Sangria are on sale for $5 each whereas other colours vary between $7 and $10.  These opaque pantyhose are an excellent basic for your wardrobe.
American Apparel offers free shipping on orders of $60 or more. Orders under that cost a flat $8 rate across Canada. American Apparel manufacturers their clothing in the USA. Thus, their products come under NAFTA - no duty to Canada. You can also make returns in store, a very useful feature when ordering online.
(Expiry: 14th February 2015)