Porter Airlines Canada: Up To 50% Off Fares, Taxes & Fees Included!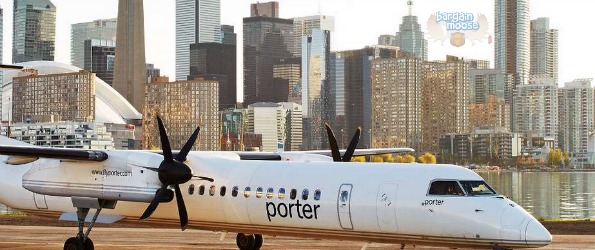 Porter Airlines has an incredible deal that you will need to get by the end of the day today.  Save up to 50% on flights, and the taxes and fees are already included in the prices of these deals.
You will find fares as low as just $99 one way which is pretty incredible. You must book by the end of the day today, but you have up until November 5th to actually use the tickets for travel.  That means you can use them over Thanksgiving to visit friends and family for the holiday. There are blackout dates from October 10-13th, but you can always travel the day before that or the day after that, so you can still have your Thanksgiving holiday.
Here is a look at a few of the flight deals right now:
Toronto to Windsor or Sudbury - $99
Sudbury to Toronto- $100
Ottawa to Halifax - $172
Mont Tremblant to Boston, Washington or Chicago - $213
Halifax to St Johns- $160
All of the prices listed above are for one way tickets, but there are many more combinations for tickets you can purchase and save on.  I like the fact that they have included some US cities with this deal because a lot of people like to fly there for vacation or for family visits.
Additionally, the taxes and fees are already included in the prices listed above.  That is pretty unusual, for prices to be that low with the fees and taxes included, because those things alone can be well over $99 in my experience.
If you are in the province of Ontario, you are very lucky because Porter flies from a ton of Ontario locations.  I have heard that they will be expanding out west here soon and I can't wait to get these deals when they do!
(Expiry: 26th June 2014)