Join Dairy Queen Club For A Free Blizzard Coupon!
This deal has been around forever and a day, but I have not yet blogged about it on Bargainmoose. If you join Dairy Queen Canada online, they will instantly email you a free coupon to "buy 1 get 1 free" on their lovely blizzards desserts!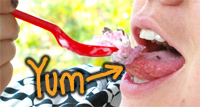 Just put in a few details and wait for your free coupon!
Every month, they send out a new newsletter to your email. If you don't really want this, just use a disposable email address. BUT sometimes that have a new coupon or good offer within, so it's worth keeping an eye on them. For example, on your birthday, they send you another free coupon for buy 1 get 1 free blizzards.
Thanks khawkins04!