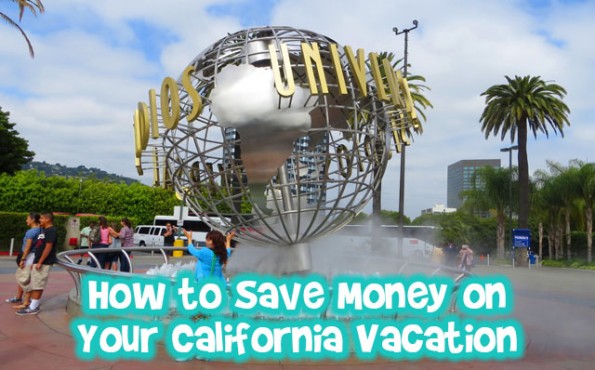 Almost one year ago my husband and I flew down to California for 10 days to celebrate our honeymoon. We'd both always wanted to visit The Golden State, but since we had just spent a pretty penny on our wedding and were about to move provinces, we made sure that our vacation in California was both fun and frugal. If any of you are thinking about visiting California this spring or summer, here are a few ways we were able to save money without missing out on anything the West Coast had to offer.
Disneyland
Tickets to Disneyland aren't cheap, but there are a few ways to save money here and there (just check out all of Clare's useful tips here). What my husband and I did to shave a few dollars off the entrance fee was to forego the Park Hopper passes (which let you in to both Disneyland and California Adventure) and just buy Single Park passes instead. Not only did we save $35 each by doing this, we also realized that we couldn't have enjoyed both parks to the fullest on the same day anyways.
As for accommodations, we avoided the pricey Disney hotels, and stayed at the Howard Johnson Anaheim instead. It was significantly cheaper and still walking distance from the park. We also tried to avoid eating or buying anything at the park too. Instead of buying bottled water there at an inflated price, we brought our own water bottles to fill up at their free water fountains. We also didn't buy any food there, but opted to bring our own snacks like granola bars to keep us fueled up while waiting in line for all the rides.
Universal Studios
My husband and I were really excited to visit Universal Studios (we're huge film buffs), but unfortunately we couldn't find any way to get discounted tickets for entry. The one good thing that did come out of our visit (besides having a blast on all the rides!) was that that the park was giving away free tickets to be part of Jay Leno's studio audience. Apparently they have promotions like this all the time, and we made sure to take advantage. We may not have saved any money while at Universal Studios, but just being at the park gave us something to do the following day for absolutely free.
Hollywood & Los Angeles
The most expensive part of visiting Los Angeles is actually staying in Los Angeles. Even though we searched for the best hotel deals online, it was hard to find a decent room for less than $170/night. Since that was the case, we made sure to save money in other ways. Instead of eating out everyday we bought groceries at food stores like Trader Joe's and stored them in our room's refrigerator. We also tried to do a number of free activities, such as visit Santa Monica Pier, check out the Hollywood Walk of Fame, and drive up to see the Hollywood sign.
Wine Country
We really wanted to explore California's wine country on our honeymoon, but we knew we couldn't afford to fly up to Sonoma or Napa Valley from Los Angeles. Instead, we decided to stay in Temecula for 3-nights, which is only an hour and a half drive away from downtown L.A. Not only was it a beautiful town full of wineries, it was incredibly affordable to stay there. We were able to get a lovely suite with a private porch overlooking the orchards at the South Coast Winery & Resort for only $165/night just by searching the hotel deal sites. Our wine tour was also very cheap at only $100/person for a full afternoon of wine tastings, pairings, and transportation through Rockin' Wine Tours.
Bargainmoosers, have you visited California before? What tips & tricks did you use to save money?