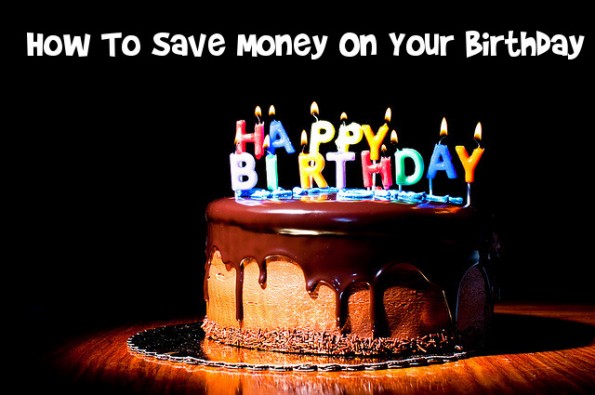 Last week it was National Heather Day, no it's not an actual public holiday, but March 10 does mark my birthday!  I absolutely love my birthday, and I try my best to make the celebrations last an entire week each year.  I enjoy most aspects of my birthday: the parties, the people, the cake, the presents, the attention, the list goes on.  I don't even mind getting older either.  I truly feel it is a privilege to live a long and healthy life.  Being the incredibly frugal person that I am, however, I do not enjoy spending mass amounts of money on my birthday festivities.  My husband and I are foodies, and my husband is an excellent chef.  We generally don't eat out very often, and when we do we save our meals for special occasions or vacations when we have the time and money to dine at nice restaurants.  So unless we can afford to spend $150 on a meal (plus the cost of a babysitter), we do some of the things listed below for a birthday.  Here are some ways to cut down on birthday costs.
Homemade vs. bought     
Unless you prefer something special like an ice cream or frozen yogurt cake, try making a homemade birthday cake.  It doesn't have to be fancy or elaborately decorated, it all goes into your cake hole!  As long as the taste is good, who cares what it looks like?  That being said, if you enjoy taking the time to decorate cakes, there are many options available to learn that skill.  Try your city's local classes, there are usually some inexpensive classes throughout the year.  With the average birthday cake costing about $50 for a cake from the bakery, making your own could be worth it.  Personally, I absolutely love a good boxed devil's food cake with peanut butter chips and dark chocolate icing… soooo yummy!  And at a cost of less than $5 to make, that is my cake of choice.
"Free" day
Google "birthday freebies" and you will have a long list of freebies you can take advantage of on your birthday.  Note that you need to sign up to be on each company's mailing list to be eligible for the birthday freebie, it's easy to do, and you will be the first to hear about other great offers. My favourite birthday freebie is from Sephora.  They email you a coupon for a freebie on your birthday.  Simply bring it into your nearest Sephora and you will receive a birthday treat.  Usually you receive a mini mascara and lip gloss. I'm not a huge shopper, so I love the opportunity to browse through the store with my hubby.  I usually give myself a budget for the day, and I try to get as much free stuff as possible for my birthday.  Another good birthday freebie is the free coffee at Starbucks when you register your Starbucks card online.
Gift certificates/reward miles/free coupons
In addition to being foodies, my hubby and I also love movies.  Before my birthday I always research the movies I want to see, and the hubs and I decide on what we want to see most.  I cash in 200 Air Miles and get a Cineplex movie experience, which includes 2 general admissions, a popcorn and 2 drinks.  The cost of this outing?  Absolutely free!  Additionally, I dig up any freebie or "try me" coupons that were either direct mailed to us, or that we received from a promotion of some sort.  For example, 2 years ago a new wings restaurant opened in our neighbourhood, and we were mailed a coupon for 5 free wings.  We're not normally wing fans, but for my birthday we decided to have some fun and give them a try.  We bought a few drinks and some other snacks, and it was a fun experience, all for less than $20.
House party
Every year I toy with the idea of organizing a girls night or dinner out for my birthday, but in the end, it's just too time-consuming and expensive, and we usually end up having a small birthday gathering at our house for family.  This is what I prefer, and I get to see my favourite people.  We have bought decorations and a special "birthday girl" pin, so now that these are purchased the price of subsequent parties will be much less.
Last year I Iearned a valuable lesson the hard way, that spending money doesn't always pay off on your birthday.  My husband booked a babysitter for our kids ($50), and we went to a neighbourhood chain restaurant ($75), which I have been to many, many times with my girlfriends for drinks and appetizers.  Our evening cost about $125, the food was terrible, and I was very upset that we had wasted money on food and an atmosphere that was not enjoyable, nor was it celebratory for my birthday.  This year we did everything I mentioned in the article above, although we did spend about $30 at our local Five Guys Burger and Fries, which is our absolutely favourite treat place to eat (we eat there about twice a year, mainly due to the high calorie counts in their foods).   We had so much fun, and we really, really enjoyed our food, and the experience.  We got home and my parents (who were looking after my kids for free!) had baked me a cake, and everyone sang me happy birthday together.  It was the best!   Remember that you don't have to spend a lot of money to have a nice birthday, or to enjoy yourself.   Surround yourself with people you love, and bask in the simple joys of life.  Remember that every day above ground is a good day.
Bargainmoosers, how do you celebrate your birthday frugally?
Photo credit: Omer Wazir