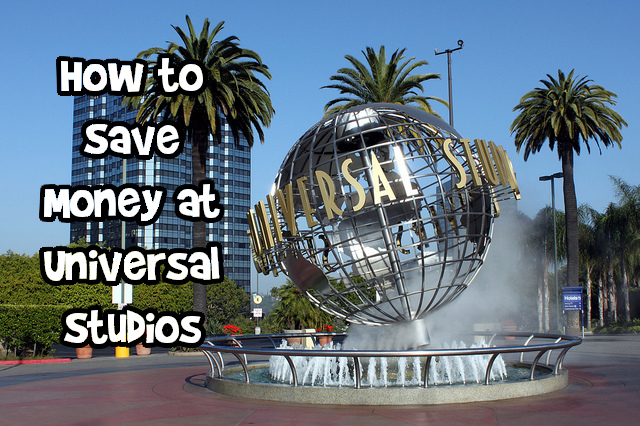 Universal Studios theme park has a location in both Hollywood, California and Orlando, Florida.  As a kid, I was lucky enough to have gone to both.  It is often the quintessential addition to a trip to Disneyland (especially since they are both in the same locations).  A day at Universal Studios, the ultimate Hollywood experience, doesn't come cheap though.  The usual price of a one day pass to Universal Studios is $99 US Dollars and $199 US Dollars for a Front of Line ticket.  With the poor conversion rate, it is even more expensive for us Canadians.  A trip with your family can add up to hundreds of dollars very quickly, and that does not include the flight or the accommodation.
Despite the high cost, it's a great place to visit and there are indeed small ways that you can save that will pay off big time for your trip to Universal Studios Hollywood or Universal Studios Florida.
Buy Your Tickets Ahead of Time
The first and possibly most easy way to save money is to buy your Universal Studios tickets ahead of time before you get to the park entrance.  According to USA Today you can save anywhere from $10 to $15 from the ticket price you paid at the booth if you just get your tickets ahead of time.  Alternately, you can also go to an excellent website meant for saving money at amusement parks Mouse Savers.com.  It focuses on how to save money on the fares for big name amusement parks in general, hence there are tips on how to save money for Universal Studios.
Join the Club
If you are affiliated with Costco or with Premium Outlets to name a few, you may be eligible for discounts on Universal Studios passes.  Some examples of memberships, according to MouseSavers.com, which will save you money include Premium Outlets VIP discount.  In addition, if you have Air Miles, you can redeem your Air Miles for Universal Studio passes (though you will need at least 825 Air Miles).  Each pass starts off at 825 Air Miles.
There's an App for That
Like most things there is an app for that.  The app tells you the showtimes, it tells you how long the wait times are for the lineups, among other things.  The Orlando one is called Lines by Touring Plans.  It's free to download and will help your Universal Studios adventure and improve your experience that much more!  The more rides you go on, the more value you'll get for your hard earned money.  Time is money with places like these.
For other ways to save, check out how to save money at amusement parks and how to save money at Disneyland.
The Typical Ways to Save Money at an Amusement Park
The typical way people can save money at the amusement park, include staying at a motel or a condo with a kitchenette so that you can cook your own meals in the evening and save money.  Another way to thwart the prices is brought to you by My Top Ten Travel List blog.  My Top Ten Travel List blogs recommends that you bring food or eat the sandwiches available to you that you packed ahead of time into the amusement park.  The line ups at Universal Studios (and Disneyland) are notoriously very long, so bringing your own food is great way to save money and time.
If you are Flying Don't Go in Peak Season
Of course, if you can help it, avoid the peak season between June to August.  Not only will both places be really hot, but it will be swamped with people.   If you are able to drive (e.g. down to California if you live in British Columbia or Alberta) then you will save money on peak season flights.
Hopefully these tips will help you and your family save money at Universal Studios next time, should it be in Hollywood California, or Orlando, Florida.  It is a great chance for a family vacation and quality time spent with family and at Universal Studios there's something for everyone.
Bargainmoosers, have you been to Universal Studios?  Do you have any tips to share on how to save money at Universal Studios?
Photo credit: Prayitno