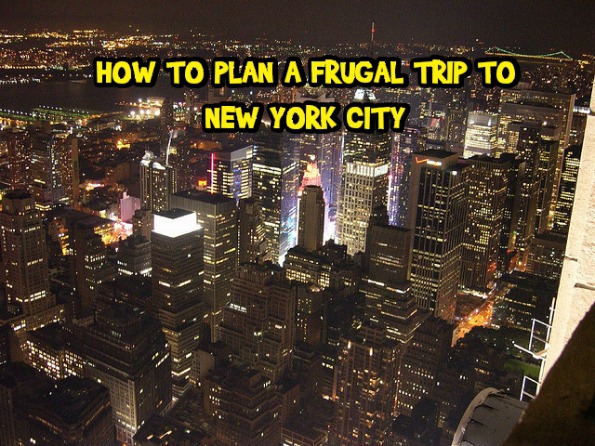 I am very excited, as I will be traveling to NYC at the beginning of December.  I'm travelling for work so lucky me - most of my expenses will be paid for.  Don't hate on me!  I'm very fortunate as the company I work for treats its employees incredibly well.  However, my husband is travelling with me, so we need to be conscious of our spending since we will have to pay for his expenses, plus we will need to pay for any touristy activities we participate in.  When we are in NYC, we would like to do the following:  eat some delicious food, have some yummy drinks, see a museum or two, and explore some of the typical tourist attractions.  We might squeeze in a Broadway play too.  On Bargainmoose there are some fabulous articles about saving money while travelling, check out these articles including 3 tips to save money on your next getaway and Travelling on a budget.
Tourist attractions
This recent article about the Toronto CityPASS made me wonder whether there was such an option available for NYC.  To my pleasant surprise, the answer is yes.  In fact, there are a few options for a city pass, but I examined the Official CityPass New York for this post.  CityPASS grants you admission to the following:  Empire State building, American Museum of Natural History, The Metropolitan Museum of Art, The Museum of Modern Art, the Guggenheim Museum and Statue of Liberty.  The cost to purchase this pass is $106/adult, but the regular admission price to all of these tourist attractions is $185, which is a savings of 43 percent.  Passes are valid for 9 days once you visit your first attraction.  But the pass isn't just valuable for cost savings, when you purchase this pass, you don't have to wait in line at any of these attractions. Not waiting in line is obviously a big time saver, which means we'll be able to do more in the limited time we have in New York City.
Alternately, we are considering a guided walking tour through the city.   There are some awesome walking tours available, but be sure to check Tripadvisor for reviews on them, including pricing information. Tripadvisor could be said to be a money saver, as you can read reviews of your destination and all its stops before you go, so you don't waste money going somewhere that 95% of people said was crap. Because it features reviews by people who experienced that hotel/restaurant/tour first-hand, they also have great tips on how to save money and where to spend your money. Walking tours are also a money saver because you save on the transportation costs you might have with a bus or other type of tour.
Eating delicious food
I am attracted to the idea of a walking food tour.  Maybe it's the idea that I could walk off some of the food I'm ingesting, or maybe it's the fact that the tour is a facilitated walk through the city.  Either way, a walking food tour is an awesome way to sample a number of different food options in a short period of time.  Food on Foot tours come highly rated on Tripadvisor.  Alternately, I read a blog recently about Free Food Tours, and the woman who was writing about it had an excellent experience.  I suppose they make money through tips.
There are a few classic New York foods that you HAVE to eat while in NYC:  pizza, hot dogs and pretzels.  Here is an article on Tripadvisor about cheap eats in NYC.  I don't plan to gain back the 50 pounds I have lost in the last year during this trip, so I will be limiting the foods listed above.  I might try one piece of pizza instead of the holy trinity of NYC super foods.
We will also go out for at least one nice dinner while we are there, likely on our last night.  There are many, many options available in NYC for a delicious meal.  I will be sure to check out Urban Spoon to identify which restaurants are close to our hotel, and have delicious, affordable food.  Our hotel has a neighbourhood link, which lists a number of restaurants for us to consider.  Since most menus are now online, we will choose a good restaurant before we go, so that we can ensure a reservation.  Additionally, we will be sure to make at least one sit-down meal occur during lunch.  The prices of meals during the lunch hour are much less expensive than during dinner.  There are three restaurants in our hotel, and we will likely visit one for a leisurely lunch, likely with wine.  Is it obvious yet that I'm food-obsessed?
Broadway
We don't have a tremendous amount of time in NYC, so I'm not sure if we can squeeze in a show.  I am a huge Broadway fan, however, having seen Les Miserables twice, and a number of other productions, including Cats and Phantom of the Opera.   Regular balcony tickets to shows can be as expensive as a few hundred dollars per ticket!  Being the frugal Bargainmooser that I am, I knew there had to be cheaper options than conventional tickets.  TKTS ticket booths sell same day tickets to broadway shows.  The tickets they sell are discounted up to 50%.  TKTS has some great information about the ins and outs of Broadway plays.  An option I hadn't considered is to go to see an off-broadway play.  Typically these are more casual and cheaper.
Although we will likely plan almost everything else for our trip, a broadway show is something that we will leave to the last minute.  If we do purchase tickets they will be for the day we purchase them.  It's fun that this will be a last-minute surprise.  We don't leave much to the last minute, so this is a fun element to our trip.
Transportation
Getting around NYC can be an expensive endeavour. There are a plentiful amount of cabs, but they will still cost. According to NY.com, cab fares are:
Initial fare - $2.50
Each 1/5 mile (4 blocks) - $0.40
Each 1 minute idle - $0.40
With these prices, a taxi from my hotel in midtown Manhattan to Central Park will cost about $12.  Another, much cheaper, option is to take the subway.  You can purchase an unlimited metro card, which will grant you unlimited bus or subway rides until midnight, 7 days a week for $30/person.  Given that just one cab to Central park will cost approximately $24 there and back, it will be much more cost effective to purchase the metro pass.  We will need one anyway for our food tour.
 Shopping
Shopping is something we won't have much time to do, but I'm excited to at least window shop.  There are some very chic, high-end stores in NYC that I could never afford to shop at, but there are lots of more affordable stores which will satisfy my shopping urge.  According to this article at frommners.com, there are cost effective stores in every neighbourhood in NYC.  I'm personally very interested in checking out the Chelsea/Meatpacking District, as they are close to where we are staying, and they have a good mix of shabby and chic options to choose from.
Although I'm very excited about my trip to NYC, I also want to be conscientious of our money.  Given that we're going right before Christmas, we will need to be extremely frugal with what we spend our money on.  We have some excellent options above, I can't wait to go!
Photo Credit: Midwinter