Flights From Toronto To Dublin Now $338 Roundtrip @ Flight Hub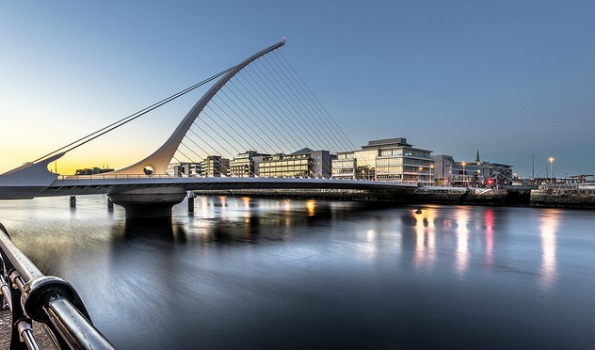 Ireland sounds like a lovely vacation doesn't it? Right now, you can grab round trip tickets from Toronto to Dublin, Ireland for as low as $338. Flight options are available between September 2015 and April 2016.
Flight deals are always a little tricky, as they are a bit personal. What day you are leaving, what day you are coming home and how many layovers all factor into how much you will pay for your flight. Right now, if you head over to Flight Hub you can pay as low as $338 for a round trip ticket to Dublin, Ireland including fees, in Canadian dollars. The deals seem to be popping up for the airlines US Airways and Iberia. Many of the best discounts on these flights seem to have a layover at the airport in Philadelphia or Chicago. Make sure to let the website find all of the available flights before you close the window. The best deals pop up at the end.
Book tickets for only $389 including taxes and fees. The following dates are examples of flights at this price:
Book tickets for only $410 including taxes and fees. The following dates are examples of flights at this price:
As you are searching, Flight Hub automatically will give you an alert if there is a cheaper price close to your planned departure or return date. This can come in handy of your dates are a bit flexible. Since flights dates and times are personal, you may have to play around with your departure and return date to get the best deal for your schedule.
Here is an example screenshot of the checkout for the March 29th to April 7th flight.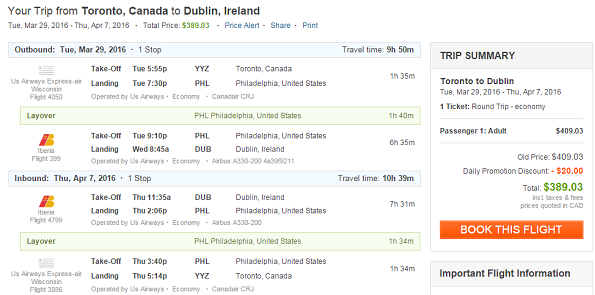 If you price compare the other airlines on Flight Hub, you can see you are getting a hot deal through Iberia and United Airways. For example, the next cheapest flight for March 29th to April 7th is $569 through United Airways and Finnair. Most flights are sitting at $744. If you go to American Airlines directly to book, the lowest price for March 29th to April 7th is $966.
I like Flight Hub because all the taxes and fees are included upfront and they charge in Canadian dollars, making it easy to price compare. If you want a flight, I would book quickly as I have already seen the prices fluctuate while I was writing this post!
Image Credit: Giuseppe Milo
(Expiry: Unknown)