Express.com Semi-Annual Clearance Sale: Over 75% Off Men's & Women's Styles (US)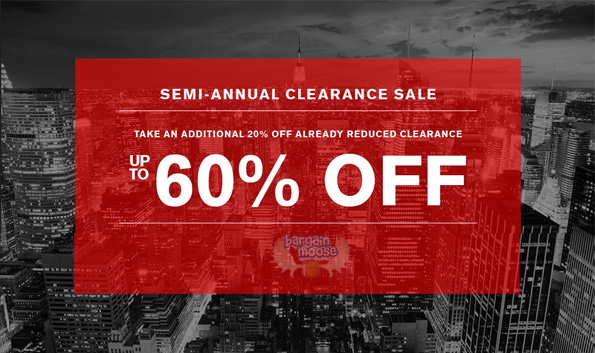 Get ready for loads of deep discounts because for a limited time, you can save over 75% off during Express's Semi-Annual Clearance Sale.
Now, I'm fully aware that the banner up top clearly states "up to 60% off"; however, I have actually found discounts over 75% off as well! Take for example the Herringbone flannel track pant, which were originally priced at $69.90, then reduced to $19.99 and which are further discounted at checkout to just $15.99 - that's actually 77% off! What's even more surprising is that although these pants are currently on sale, they're nevertheless available in all sizes, though surely not for long since that's a pretty awesome price to pay for, especially since they have been touted as being super comfortable.
I also discovered this unique looking zebra graphic square scarf for any frequent scarf wearer. Personally, I never wear scarves bu here's what one reviewer had to say about it:
This is a big scarf that fluffs up well when worn around the neck. I doesn't fall flat or look skimpy. I've also worn it as a head scarf. I love it.
Already discounted to $14.99 (reg. $34.90), it further comes down to just $11.99 once you add it to your shopping bag.
As for men's fashions, there are plenty to choose from as well, such as with the Beats + Rhymes graphic tee, which comes down to $11.99 (reg. $29.90) at checkout or even the Modern Fit 1MX stretch cotton shirt for just $23.99 (reg. $59.90). Although both are ultra trendy, I would personally prefer to see my hubby in the latter, especially with the skinny silk tie in tartan plaid for $23.99 (reg. $49.90).
Shipping is free on orders over $125, orders ship from the US to Canada, but the checkout will show you all potential charges (including the $12 international fee), there are no hidden charges at your door.
(Expiry: Unknown)