$3 Off $10 - For Easter Baking!? @ Bulk Barn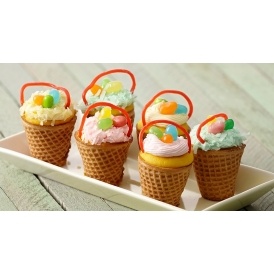 I have a lot of really cute Easter treats pinned, and I can't wait to try making them. If you are in the same boat, then I suggest you grab the ingredients needed from the Bulk Barn. You can use this coupon to get $3 off $10 - which is quite a discount on supplies. You can either print the coupon, show it on your mobile device or cut the coupon from the Bulk Barn's flyer.
You've probably seen the Cadbury Scotch Eggs and 3 Ingredient Cadbury Creme Egg Fudge recipes circulating around Facebook. I know I have, and my belly really wants me to make them. My thighs may not agree this time, but some battles are worth it.
While you're at it, check out the promos that are currently available at Bulk Barn to reap the best benefits. The discounts will vary by province. Right now Dried Cranberries are on sale at Bulk Barn locations in Ontario, and I love adding those to my cereal, breakfast muffins and even pancakes. You are limited to one coupon per person, per promotional period but there have been times where I have printed it twice and used it twice without an issue. You also cant' combine seniors' or students' discount with this coupon which is a bit of a bummer.
You can check out all the Bulk Barn Canada print coupons and such in our Bargainmoose forum. Sign up for email updates there if you want to be notified when future coupons come out for Bulk Barn.
(Expiry: 17th March 2016)