$15 Fares Anywhere In Canada, Children 2 - 11 With Family Travel @ Via Rail Canada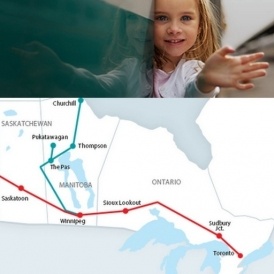 Have you traveled on a train with your family? We have been on a Via Rail Canada train on a journey that ended up in beautiful Jasper, AB. I had always wanted to go on a train ride and it was exactly as idyllic as I'd imagined it would be. There is something about the sound and motion of the train on the tracks that is gentle and soothing. We were really stunned at how spacious the seats were - it's not like in a vehicle, bus, or air plane. The seats in front of you are far ahead of you with plenty of space. You can get up and walk around, head over to the snack area or wander into (on our train) a large viewing window train so we could see the mountains!
This summer, when you travel as a family by train, kids aged 2 - 11 can travel for only $15, anywhere in Canada in economy class! There are some conditions that you will want to read about here.
This is what this fantastic sale entails:
Kids aged 2 to 11 travel for only $15
Anywhere in Canada in Economy class
Book from May 2 to August 26, 2016 (inclusively)
Travel from June 20 to August 31, 2016 (inclusively)
Children under 24 months travel free provided that they do not occupy a seat. They must, however, be seated on an adult's lap throughout the trip (an adult can travel with only one infant on his or her lap). Note that you must call them ahead of time for children under 24 months without a ticket who will be traveling with you!
From the Via Rail website Re: children under 24 months: "Once you have purchased tickets for yourself and other family members online, you must provide us with your child's name. You must do so by calling 1 888 VIA-RAIL (1 888 842-7245) or TTY 1 800 268-9503 (hearing impaired). If you want your child to have a seat, you must purchase a child's ticket. Please note: To purchase a child's ticket online, you must reserve one or more tickets for the accompanying adult(s) at the same time."
In this case of an under 2 year old sitting on my lap for the duration of the trip, I would far rather pay only $15 for my under two year old to have a seat, with this great sale!
There are 19 train routes across Canada, you can head over here to check it out!
(Deal expiry: Aug. 26, 2016 booking must be completed, with travel taken place between June 20 - Aug. 31.)