Dealfind Canada: $699 For A One Night Stay For 8 People In A Castle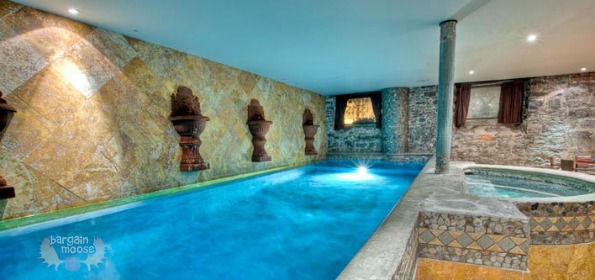 I had to blog this deal because I found it super cool. I think life is about living and experiences that you just don't get every day. This one is definitely one of those experiences and I think it is one you won't regret! For $699, get a one night stay with up to 8 people in a luxurious 6000 sq. ft. old Montreal castle. They say this has a $3395 value.
The link will take you to Dealfind's site, so scroll down and find this deal. It should be easy to find as the only deal on staying in a castle!
If you want to impress a date, your employees, your family or your friends, give them the gift of living like kings and queens for a night! This is the perfect place for a family reunion, or a place to propose to your future wife! I'd love this for a girl's night or a bachelorette party. If you are splitting the cost with seven other people, you are each spending less than $100 for the night.
Not just a castle, this place has four bedrooms, five bathrooms, multiple flat-screen TVs, a fully-equipped kitchen, a private terrace, living and dining rooms galore, plus a private pool and sauna. You can even pay extra and get a private chef, a server, or my favourite - a mixologist. Many amenities are included and listed here. Check the availability dates before you buy and this deal is this price for Sunday - Thursday stays, but you can pay $300 more for Friday or Saturday and December is another $100.
(Expiry: 22nd September 2013)