Canada's Wonderland: Season Pass Holders Bring Friends For $20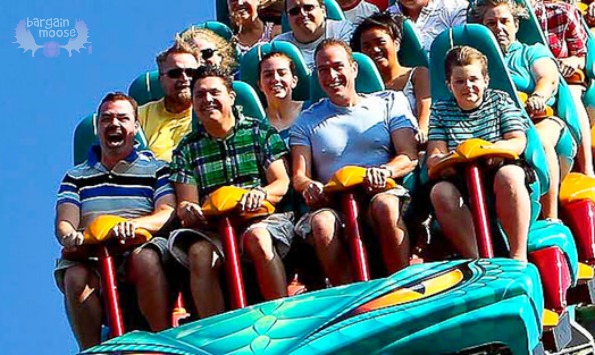 If you have a season's pass for Canada's Wonderland, did you know you can take friends with you on Mondays (who don't have season passes) for only $19.99? Normally, your friend would have to pay $47.99 each if they went on their own. If they were going with you on any other day, they could go with you (up to four people) for $26.99.
I am moving about a half hour's drive from Canada's Wonderland and we are getting season passes. I figure even if we go three times, and we'll probably go a few more, it will be well worth it. A few of the friends who will be missing us in our old city suggested we meet up at Canada's Wonderland over the summer, which I think is a great idea. I think coming to meet us on a Monday is their best bet, as they'll save so much money on their day passes.
I also think that Mondays are probably less busy days (with the exception of the holiday Mondays) as people who are going to take some days off wouldn't take Monday unless they took the whole week. My husband used to take every Friday off in the summers, and I know quite a few people who still do the same.
This bring a friend deal is the same price for adults, juniors and seniors, but it is still a good discount from what they'd normally pay. You can buy your tickets online or at the door as well.
There are a few other deals to go along with this, to save you money on your fun day out. For example, you could add an all you can eat meal combo for $11.99. You could also do the all-day dining deal for only $30.
(Expiry: end of 2014 season)