Canada's Wonderland Discounts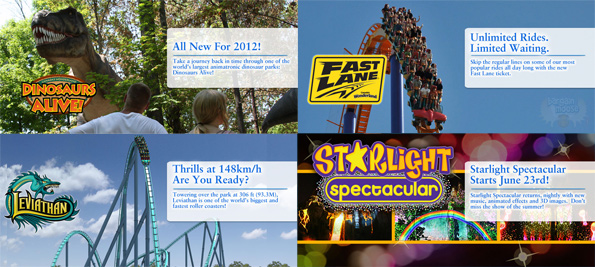 Canada's Wonderland is one of the top tourist attractions in Ontario, and we've been noticing more and more people landing on Bargainmoose who are searching for discounts for this particular attraction. Did you know we have a page which lists all the latest deals for it? I'd like to point it out to the existing Bargainmoosers. :)
On our Canada's Wonderland promo code page, we're accumulating a growing list of discounts and deals for cut-price entry to Ontario's top attraction. Some are promo codes which you enter at the top right hand side of the site, and some are discount links where you can buy cut price tickets.
For example: online, a regular 3-day advance adult ticket is $39.99, but using the promo code ICOKE you can get it for $35.40 (gate price is $57.99).
Just note that here is a processing fee of $5 for online orders - so it doesn't make sense if you are only ordering one ticket -it negates the discount. So it would be best if you could make a group order, if you're travelling with other people too.
On their Facebook page, Canada's Wonderland has been giving out weekly fan perks - consisting of these printable coupons (expire 17th June 2012) for discounted items at their outlets such as the sweet shop or cafés. This weekend, there's a printable coupon for buy 1 get 12 half price on burritos from the Backlot Café, or  buy 1 get 1 free on the homemade fudge from the Sweet Shop there. Before you visit Canada's Wonderland, be sure to check out that page to see if there's a good printable coupon to bring with you.
Have you been to Canada's Wonderland, did you like it? I've never been, I am NOT a fan of amusement parks. :(
P.S. If you find a good deal or promo code for Canada's Wonderland, please share it on our coupon page too.