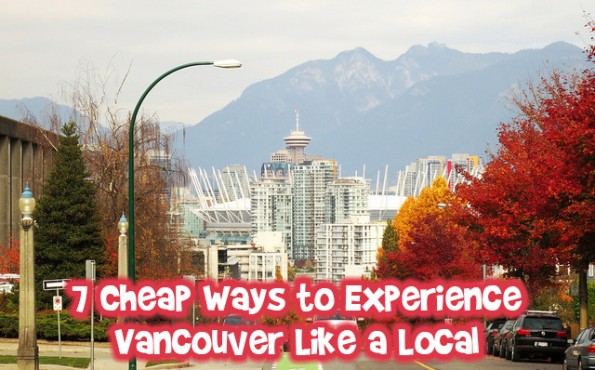 In just a few days my husband and I will be flying back to Vancouver after a year away. Besides looking forward to visiting family and friends, I'm also really excited to experience Vancouver with a completely new perspective. Living there for 26 years, I left the city thinking I knew it like the back of my hand. Still, in those 26 years I never really played tourist in my own town. There were a number of amazing things about Vancouver that I took for granted, so this trip I'm going to make sure I soak up as much West Coast as I can for as little as I can.
1. Catch some rays at the beach
Having lived in Toronto for the past year, I've definitely missed being so close to the ocean and the amazing beaches Vancouver has to offer. That being said, I think the last two years that I lived in Vancouver I only visited the beach twice! This trip I'm going to make sure to soak up some rays at English Bay, Kitsilano, Jericho, or Spanish Banks Beach for absolutely free.
2. Get cultured at the Vancouver Art Gallery
Since Vancouver is known for its gloomy weather, I've got to be prepared in case my beach plans get rained out. Luckily there's the Vancouver Art Gallery that never disappoints located in the heart of downtown. The best part is on Tuesdays they offer donate-what-you-can admission between 5pm – 9pm.
3. Tour around Granville Island
One of my favourite spots in Vancouver is Granville Island. Besides being a hub for playhouses and restaurants, it also has a number of great galleries and viewpoints you can check out for free. There are also some ferryboats that take off from the island, giving you an up close cruise around False Creek, which I've always wanted to go on but never got around to doing. Since I'll be a playing a tourist on my trip, I don't think I'll mind paying $15 ($10 for seniors and children) for one of the best scenic tours around the city.
4. Taste test some local craft beer
Vancouver is known for its amazing craft beer, and yet when I lived there I never once went on a brewery tour. This time I'm gathering a group of friends to check out the Granville Island Brewery for only $9.75, and we might visit the Parallel 49 Brewing Company's tasting room for a few free samples too.
5. Grab a cup of coffee
Besides craft beer, Vancouver also knows its coffee. Sure, you can find a Tim Horton's or Starbucks on every corner, but the good stuff is hidden in places like JJ Bean, Caffe Artigiano, Elysian Coffee, and 49th Parallel Coffee Roasters. For just a couple of bucks, you can experience pure heaven in roasted bean form.
7. Dig into some delicious dishes
When it comes to food, you name it…Vancouver has it. I can't wait to order some authentic Pad Thai from Bob Likes Thai Food or taste the mouth-watering crispy cauliflower at the Lebanese restaurant Nuba again. Of course, there are also a number of other great restaurants I've always wanted to try out too like the geek-themed hot spot Storm Crow Tavern, or Guilt & Co., the pub where you can nibble on a meat and cheese plate, play a game of Jenga, and enjoy a live jazz concert in the same night.
8. Go for a walk in the park
Stanley Park is by far Vancouver's most popular park, and as beautiful as it is, there's still one park above any other that I need to make a point of walking in on my upcoming visit. It used to be named Guelph Park but it now officially goes by the name Dude Chilling Park. If I do nothing else on my trip besides get a photo of myself with that park's sign, it'll all have been a very worthwhile trip.
Bargainmoosers, what are you best travel tips for visiting Vancouver on a budget? 
(Image credit: Ruth Hartnup)