50% Off Long-Haul Trips for March Break @ Via Rail Canada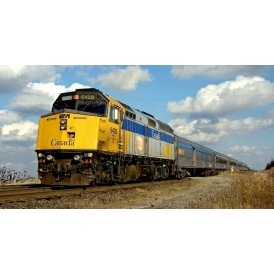 March Break will be here, and fast! Are you looking for somewhere to travel with the kids? Then perhaps you will enjoy this seat sale eat Via Rail Canada. Right now you can get 50% off long-haul trips for you and the kids. There are lots of fun options!
There are loads of options within this seat sale at Via Rail Canada. Some of the options are even appealing to me - and I don't have much want or need to travel within Canada. Some of my co-workers live in Winnipeg, so if I wanted to have a nice visit and catch up with them I could get a one-way Economy Class ticket from Toronto to Winnipeg for just $167.
I have family in New Brunswick as well. While it doesn't appear that I can get to Moncton from a local station at a discount, I could go from Montreal to Moncton for just $87 one way. Pretty sweet, right!? Do you have anywhere that you were looking to travel to with the family?
You have until March 13th, 2016 to book your trip with this discount. You can travel anytime between March 10th and June 30th, 2016 - so this is a great offer even if you're looking for a weekend getaway with or without the kids in the future. You will need 7-day advance purchase though, so get started if you want to travel in the immediate future.
(Expiry: 13th March 2016)