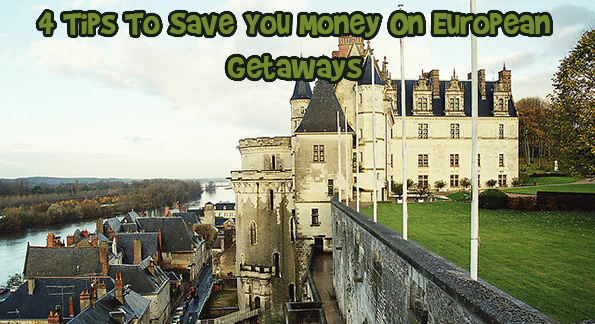 Many people that I have been talking to are saying that they want to go back to Europe, or that they want to travel to Europe because they have never been there.  They believe that travelling to Europe is only for the wealthy, but in actual fact, most airline tickets to Europe aren't as expensive as you might think.  Some of them can cost the same as a flight across Canada.
Here are some suggestions on how to save money on your next European getaway.
1. Free Tours
Many big cities in Europe offer free walking tours.  For example, in Barcelona, they offer a free one hour walking tour with someone who knows Barcelona like the back of their hand (because they are from Barcelona).  You don't need to pre-book or do anything else, you just need to show up. I like this idea because instead of paying someone from your hometown to show you Barcelona, you get to see Barcelona for free, not to mention that you get to meet other travellers from around the world as well.  The company that does free one hour long walking tours is called Discover Walks.  They are not in every city in Europe, but they are in London, Paris, Barcelona, Rome, and Prague.
 2. Travel on Off Season
The peak times to travel to Europe are obviously in the summer and early fall.  The off-peak travel season begins in November and ends in March, according to USA Today Travel Tips.  USA Today Travel Tips also said that you'll start noticing the fares dropping for fall and winter around August and September.
The amount saved can be tremendous.  Prices can be almost double what you would normally get during a peak season.  Pick the middle of the week to travel, if you can.  Other ways to save on flights are to use a flight aggregator like skyscanner.net or kayak.com to find the cheapest deal.  It is best not to just stick to one flight aggregator, because certain flights (e.g. internal European flights) might not show up on certain aggregators.  For example, Vueling (the cheap airline within Spain) doesn't show up on kayak.com, but does show up on Skyscanner.
If you can avoid travelling during big events like Oktoberfest in Germany, that will also save you lots in airfare (and headache in trying to find accommodation).
Of course, you could always use your airline points too.  Just be wary that certain airports have heavy taxes (most notable is Charles de Galle airport in Paris).
3. Skip the Hotel
If you're travelling alone, or if you're not travelling as a larger family, you might not necessarily need to spend so much money on a hotel.  There are plenty of places that you could save money.  Airbnb.ca allows you to connect with individuals and families in Europe that have a suite in their home, or a room in their home that they would like to rent out.  Not only will you meet people who might be keen to show you around, it's truly an example of experiencing and immersing in a culture, which is what travel really is about.
You could also stay in hostels (often providing free breakfast) and even try couch surfing, which is free.
4. Scout Out the Free Attractions
Europe is wonderful in that many of the attractions are free of charge.  The EuroCheapo blog shares a comprehensive list of museums in Paris that are always free, conditionally free (e.g. you have to be younger than 26), or sometimes free (for example, the first Sunday of every month all the museums are free in Paris - including the Louvre).
In addition, there are lots of free museums to see in London as well.  The EuroCheapo blog also shares a comprehensive list of free or sometimes free museums available in London.
As you can see, that getaway to Europe isn't entirely out of reach.  If you plan ahead, opt for free tours and free attractions, and choose to stay in places other than hotels, you'll be able to experience Europe at its best. Saving money on attractions and tours will leave more money for you to have your baguette or croissant and café au lait while sitting in front on the Eiffel Tower.
Bargainmoosers, do you have any other tips on how to save money in Europe?
(banner image credit: kokorowashinjin)