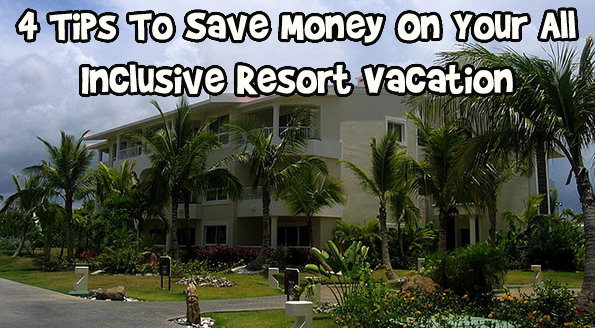 Canadians love to fly south and escape the dreary, cold, and wet Canadian winter.  It comes as no surprise that Canadians love going to all inclusive resort vacations where food, drinks, the flight, and accommodation are all included.  These trips can be pricey for the number of days spent vacationing.  However, they can be a much needed escape and getaway, because they require very little planning and involve a ton of rest and relaxation.
Some people find the resort vacation boring because of the lack of structure or exploration, but some people really enjoy the resort style vacation because there is opportunity to catch up on reading, relax, get some sun (with sunscreen of course), and not have to worry about children.
Here are four tips on how to save a bit of money on your next all inclusive resort vacation.  That way, you'll have a bit more money left over for your next trip.
 1. Book Last Minute
I used to wonder whether booking last minute really saved you money or not.  When is the correct time?  What does last minute actually mean?  According to YVR deals, prices tend to drop (if they are going to drop) around four to five weeks before flight departure.  Flights are usually the rock bottom cheapest at around one week before flight departure.
This happens since the booking companies and travel companies are all scrambling to fill up their spaces.  When they say last minute, it really does mean last minute, unfortunately.  Most of the travel companies will have the same prices anyway, so it shouldn't really matter who you pick compared to others.
If your vacation schedule is flexible, you may want to look into booking last minute to save a few hundred dollars off your all-inclusive.  Unfortunately, most people do not have flexible schedules, but it is still good to know that last minute deals do exist.
2. Go for the Cheapest Place
Canadians love the big three destinations: Mexico, the Dominican Republic, and Cuba.  Of these, Cuba and the Dominican Republic are historically the most economical.
I would prefer Cuba because of the rich culture, it's an easy jaunt to Havana, and they like Canadians. What more could you ask for?  Tripadvisor has a list of the all inclusive resorts in Cuba with their ratings and reviews from Tripadvisor readers.
3. Pick a Place Where Your Kids are Free
Having a family and planning an international trip is no small feat.  Plane tickets are no doubt the most expensive part of bringing kids along (unless they are under the age of two and can ride on the flight for free).  That's why opting for all-inclusive resorts that are family-friendly to the extent that children can stay for free is ideal.
VacationKids.com is a great blog where it lists the all inclusive resorts where kids are free, and they update it yearly.  The list includes all the different resort areas like Cancun, Los Cabos, Puerta Vallarta, Mayan Rivera, Jamaica, and the Dominican Republic.  Unfortunately, there's no list for Cuba, because I believe this site is American.
4. Go Off Season
Finally, and probably the most well-known of the ways to save money on an all inclusive resort vacation, is to go off season.  The peak season for Mexico, the Dominican Republic, and Cuba is during December (stay as far away from Christmas and New Years as possible) and in February and March, when spring break, Family Day, and other holidays happen.  February and March are probably the peak months of the Canadian winter blues, and people are antsy to get away to somewhere tropical and warm.
According to Readers Digest, the best time to go (absolute cheapest) is from May to October.  However, this is also when Canada is actually nice.  In addition, August and September are the peak of hurricane season, and then it would likely be nicer to stay in Canada than to go somewhere where it is rainy, windy, and threatening hurricanes.
As you can see, if you are strategic, plan ahead, or are flexible with being able to stay and travel last minute, you can save a few hundred dollars at least on a all-inclusive vacation.
Bargainmoosers, do you have other tips for saving money on an all-inclusive resort vacation?
(banner image credit: Ross Catrow)