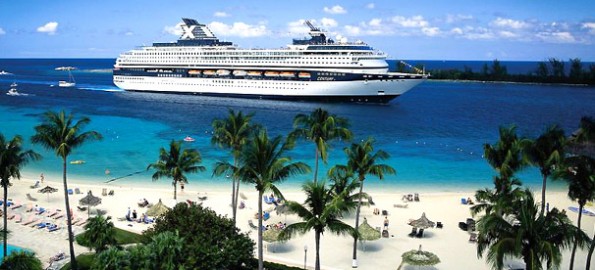 Cruises can be a great alternative to all inclusive vacations where you don't have to worry about organizing accommodation, transportation, and tickets for sightseeing as you would on a more conventional trip.  According to Huffington Post the demand for cruising in 2013 has decreased and prices have decreased anywhere from five to seven percent in the last year.
The cost of cruising has diminished in the past few years due to the sagging economy, but it can still be pricey, especially if you have a family of four to take on a Disney cruise, for example.  Nonetheless, cruising for a vacation is a great way to ensure that the entire family has fun and has something to do, whether it be hitting up the all-you-can-eat-buffet, getting dolled up for a fancy dinner on deck, or letting your children play in the children's play area while you get some sun at the pool.
Here are three tips on how to save some money on your next cruise
1. Book during wave season and travel during low season
According to USA Today,  the wave cruise season is between January to March.  This is the time of the year where all the cruise companies offer major and deep discounts on cruise fares and trips.  You don't necessarily have to travel during this period between January to March, you just have to book the trip.  With wave season currently underway, you still have time to get in on the action.
Also, if you travel during low season, or the shoulder season, which is April, May, and September for most cruising destinations, there will be cooler temperatures, less crowds, and much cheaper fares
2. Skip the Cruise Flight
CNN.com states that flights booked by cruise companies (which incorporates a flight and a cruise package) are not economical at all.  Not only is it more expensive, the itineraries associated with the flight and cruise package contain a lot of connections and layovers and are not ideal.
Rather than booking a flight and cruise package, book a flight yourself using a flight aggregator like Kayak.com to get the best deal.  Remember to clear your cookies as you're doing your search or else the flights will increase in price unknowingly!
3. BYOB and Fewer Nights
Many cruise lines now allow you to bring your own wine on board.  For $10-$20 you can pay for a corkage fee, which allows you to skip on the expensive wine on board.   An on-board bottle of wine can be expensive and having the comfort of knowing you'll be indulging on a bottle that you know tastes good is a good feeling.  In addition, Frommers recommends that you not purchase a drinks package for alcoholic beverages because most people don't drink enough to make the package cost worthwhile.
In addition, another tip is to go for the four to five if you can't do the seven.  If you can't afford a typical 7 night cruise  (and more importantly, if you haven't tried a 7 night cruise before and you're unsure if you can handle 7 nights of cruising in the middle of the ocean), 4 or 5 day packages are a lot more affordable.
Finally, if you're very set on getting a good deal on your next cruise, there's a forum for all things deal and cruise related on Cruiseline fans. This is an online forum that has been in place since 2004 which doesn't have any forms of commercial advertising so you know the information is less biased.  They also provide cruise reviews and have a tab called "cruise deals" where you can check out the latest deals of cruises happening in the destinations you want to go to.
Hopefully these three tips help you get started on learning how to save money on your next cruise trip.  Cruises can be a fun and stress-free way for the entire family (yes, the entire extended family) to get involved without getting too involved and where people can have their space yet enjoy valuable family togetherness time.  In addition, it's a safe way (minus the Costa Concordia disaster) to travel to destinations that would cost almost the same amount by plane, for example Alaska.
Bargainmoosers, where is your favourite cruise destination?