Zoomer Chomplingz Dinosaur (Chance) Now $20 @ Walmart.ca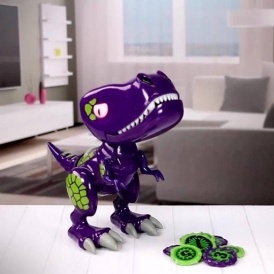 Zoomer Dinosaurs have been incredibly popular, and they look like a ton of fun for you and the kids. Here is your chance to get one if you want to stick one under the Christmas tree this year. Walmart.ca has the Zoomer Chomplingz Dinosaur (Chance - Walmart Exclusive) on clearance sale for $20. That is $25-$30 less than other Canadian retailers are selling this very same toy for, but in a different colour.
The Zommer Chomplingz Dinosaurs are actually quite simmer to the Zoomer Dino toy. There are so many things for your child to do with this cute little dinosaur, and I am excited to see it in person. It is best suited for kids between the ages of 4 and 8.
The Zoomer Chomplingz Dinosaurs are similar to the Zoomer Dino. The little mischief maker will be game for a round of fetch and other interactive games. Watch out though, it isn't always fun and games. Chance won't like to have his tail pulled and won't be shy about it... he might just let out a dino-sized fart!
Walmart.ca offers free shipping on orders over $50. If you spend over $25, you can also opt for free in-store pickup or free pickup at your local Canada Post Office. Orders under that will be charged a $5
(Expiry: Soon!)