Wymo Balance Bike for only $49.99 & Free Shipping @ Costco.ca!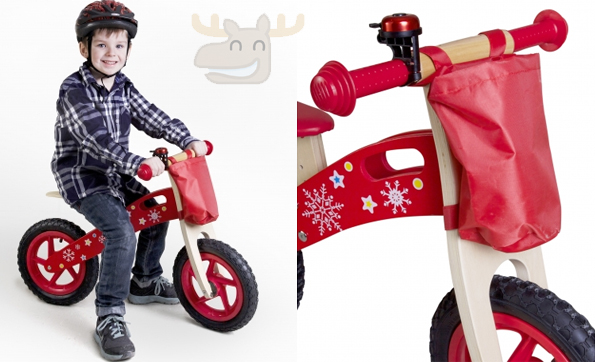 I've been keeping an eye on pricing of balance bikes, as I had the idea to get one for my youngest daughter (she's two). And just now, while browsing the online sales at Costco.ca, one jumped out at me because they wrote "HOT BUY" in large red letters on the listing. They're offering this Wymo Balance Bike for only $49.99 right now, and that also includes free shipping to your home!
Please note that you do NOT have to be a Costco member to buy this balance bike – anyone can place an order online and you don't need a membership number to do so. Just click the above link and check it out. :)
PLUS, as Shar mentioned in the comments below, you will also get 3x Aeroplan points on this purchase.
As for the colour scheme, it's a red bike and Costco show a boy riding it – this bike is perfect for either gender.
The bike comes with a full one year warranty, and it's good for ages 2.5 to 5. It's actually a natural wood bike – none of the cheap plastic crap here! I really love the look of this balance bike particularly because it is made out of wood. I simply LOVE wooden toys; I love the quality and workmanship in them, rather than some pre-fabricated plastic shapes.
Well, I would never take Costco's opinion of a HOT BUY as an actual fact, so I made sure that I did a little research and price comparison of my own. Most places sell various brands of balance bikes from around the $100 mark. The cheapest I found elsewhere was this one for $60 @ Canadian Tire – but you'd have to go to one of their stores to pick it up. The cheapest on Amazon.ca is $65 including shipping, so even Amazon can't beat the Costco price on this one.
Did you use a balance bike to help teach your kids how to ride a bike? I've never tried it but I heard that it's an excellent and intuitive way to get them to learn.
(Expires: unknown)