Where to Buy Paw Patrol Sea Patroller Canada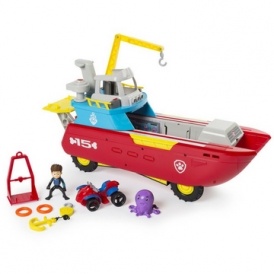 If you have a PAW Patrol fan at home, you'll probably want to bookmark this page! We're predicting the PAW Patrol Sea Patroller will be one of the hottest toys this Christmas, and we're rounding up a list of all the places in Canada where you can buy it!
If you haven't heard about this toy yet, it's one of the newest and most highly anticipated PAW Patrol vehicles this year – and you can get it from $57.94!
The Sea Patroller normally sells for $79.99 at Amazon Canada, but right now, it's on sale for $57.94 for Amazon Prime members!
Your little rescuers can help Ryder save Baby Octopus – all he needs to do is jump on the Sea Patroller and get ready to sail the high seas at Adventure Beach!
This boat doubles as a land vehicle, thanks to drop-down wheels to take the pups on all kinds of missions! Use the movable crane and attachable crane to help Ryder lift Baby Octopus to safety and send him down the ramp in his Rescue ATV. Make sure your kiddos turn the flashing lights and sounds on to help keep Adventure Beach safe!
Here's where to buy the Sea Patroller in Canada:
It comes with Ryder's rescue vehicle, a Ryder figure, an exploration platform, a Baby Octopus figure, two life preservers and one anchor.
Make sure you keep an eye on this page, since we'll update it whenever we find a lower price or a new retailer selling the Sea Patroller!
Have you seen the Sea Patroller available anywhere else in Canada? Let us know in the comments!
If your kiddo has a different PAW Patrol toy on their Christmas list, make sure you check out our list of where to buy them for the lowest prices!
If you like this, you may like these...