Where to Buy Speak Out Game in Canada 2016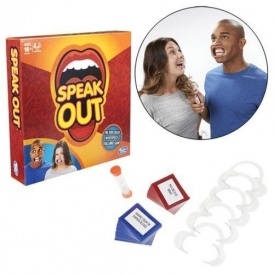 Edited: This is now in stock at Walmart but you'll have to hurry before stock runs out. It's selling for $14.93 when you use the promo code in the link below!
Being dubbed the "Pie Face of 2016", the hilarious Speak Out by Hasbro is all the rage and is sure to be the game everyone is playing come Christmas Day. But popularity can drive prices up and, of course, supply down so we wanted to find the best places to purchase Speak Out in Canada--and the best prices. We'll keep this article updated as we find it at more retailers so be sure to bookmark it now!

In Stock
AliExpress - $24.94 Keep in mind that this will be coming from China, via China Post, and will take a while to arrive.
Out Of Stock
Boardgames.ca will also be carrying it; they've estimated late October for its arrival. It doesn't appear to be available for pre-order as it is marked 'out of stock'.
Amazon also has it listed for $143 from third-party sellers so we may have to wait a bit for that to be an option!

If you haven't heard of Speak Out, you might be wondering what all the fuss is about. Well, players have to try to say different phrases while wearing a mouthpiece that doesn't let them close their mouth. You draw a card from the deck and read the phrase as best you can while your teammates try to decipher what in the world you're saying! Imagine phrases like, "he's my stealthy pet ferret name Garrett", "slow down, you careless clown", or "pelicans love pollywog falafels."
Your team has to correctly guess the phrase in order to earn the card and the team with the most cards at the end of the game wins. The Speak Out game is a ton of fun for family and friends and includes 5 mouthpieces, 200 double-sided cards and a timer.

How much fun does that sound? Picture it with a bunch of friends and a bottle of wine! Will Speak Out be on your Christmas list this year?
If you like this, you may like these...