Well.ca: Skip Hop Zoo Umbrellas Were $19 | Now $14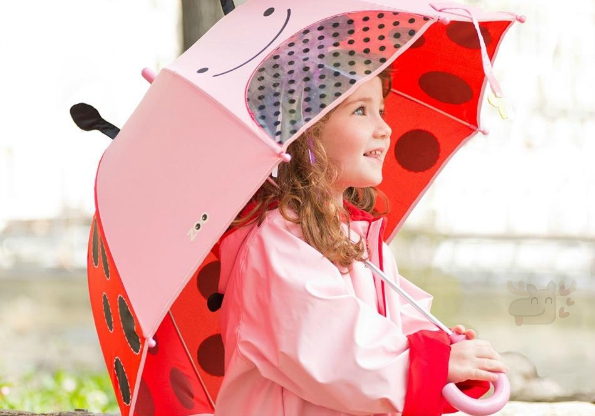 Well.ca has a lovely sale on the cutest umbrellas ever. The Skip Hop Zoo Umbrellas were $18.99 and are now on sale for $14.24 each. Receive free shipping on orders of $29 or more (easily done with two umbrellas and a spork - see below).
Choose from seven different Skip Hop Zoo Little Kid Umbrellas in this sale. Each umbrella is designed to match the corresponding creature's backpack, lunch bag, and more. As an added bonus, Well.ca is also offering a free mystery pack worth $10 on orders of $50 or more. If your cart totals that, then you will be asked to choose your mystery bag at checkout.

Now, I price compared these umbrellas with other online retailers. Chapters Canada usually sells them for $18.99, but they are on sale for $15.19 right now. Bed Bath & Beyond has them listed for $19.99. Lusso Baby Canada has them listed for $18.99. I will admit that Amazon Canada matches Well.ca's price on two of the umbrellas (monkey and owl) but the Butterfly and bee are $19 each and the Ladybug is $16.15. Given that Well.ca has the larger selection with all of their umbrellas discounted, they are the better deal.
These little rain umbrellas are perfect for spring and for fall in most of Canada. Also, if you live in the lower mainland of BC or on Vancouver Island, you will want one of these umbrellas for winter as we get a lot of rain then! Your child will love carrying their umbrella to school and out for walks as well. These umbrellas are so adorable that I wish they came in adult sizes. For children, you can purchase the following creatures:
Owl
Lady Bug
Monkey
Bee
Giraffe
Butterfly
Dog
I also wanted to mention that all the all Skip Hop rain gear is on sale for 25% off; therefore you can purchase a matching rain jacket for your child as well. There are five matching rain jackets to choose from in this sale.
On a completely related note, if you are placing an order at Well.ca then I highly recommend sticking a few sporks on your cart! These Goodbyn Sporks are on sale from $2.78 down to $0.99. Because of shipping, they are not worth buying on their own but they are well worth buying if you are purchasing other stuff. Two umbrellas and one spork would give you free shipping.
(Expiry: 6th September 2015)