Walmart: Fisher-Price My First Thomas Magic Motions Was $45 | Now $20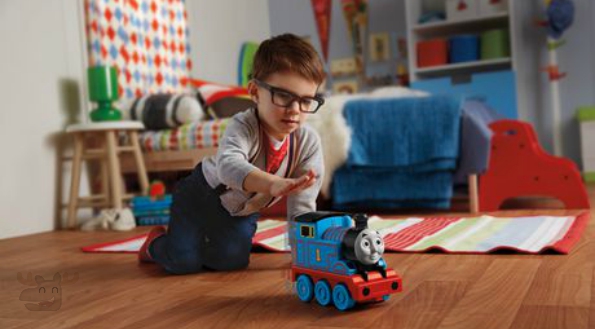 Walmart Canada has an excellent deal for all the Thomas fans amoung our Moosers. The Fisher-Price My First Thomas Magic Motions is currently on sale from $44.94 down to just $20. Pick up this toy and get it shipped to your local Canada Post location (or Grab & Go locker) for free.
This toy is perfect for any child wanting more interactive play with Thomas. Your child controls Thomas by waving a hand or the crossing signal above him. Thomas responds by moving backwards or forwards. he will also rev up for racing and avoid obstacles. In race mode, you wave your hand back and forth over Thomas. Thomas then revs his engine and then speed ahead. One reviewer said:
This was our child's first toy that moves/drives on its own and did take a little "getting used too" (i.e. not scared anymore). After that period it has been all fun waving, running around and chasing Thomas. Our little ones favorite part is waving her hands fast and chasing Thomas as part of the racing mode.
Thomas also makes fun sounds and says phrases. In Thomas says Mode, Thomas encourages your child to send him in specific directions. It is all a lot of fun for your child as this is a pretty sophisticated toy. The Thomas Engine comes with a crossing sign paddle to either wave over Thomas or to use as an obstacle for him to go around.
This same toy currently costs $49.99 at Toys R Us Canada. it is on sale at Amazon Canada for $20, but there is only one (1) left in stock and, as the toy is under $25, it does not alone qualify for free shipping. At my local Walmart stores, this toy is currently on sale for $30 with limited stock. Given the great price, the good stock count (not limited), and the fact that you can receive free shipping to your local Canada Post - I figured that this was certainly a deal worth writing about.
(Expiry: Unknown)