Walmart Canada: Massive Toy Event – The Latest Toys At Great Prices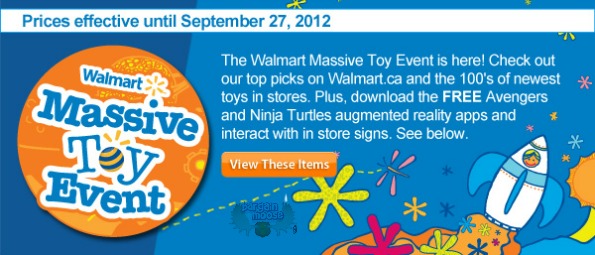 Walmart Canada is offering the newest toys at great prices for their Massive Toy Event.  Check out their top picks online and hundreds of the newest toys in-stores.  Not applicable to clearance items, only to products available in stock at store location.  Prices are in effect until September 27th 2012.
The Furby is normally a popular toy and it's listed here for $69.97.  When you first get your Furby it will speak mostly furbish, but the more you interact with it, the more English it will speak.  They respond to your touch, music and even other Furbies.  This time, you can download a free app to your iPhone, iPad or iPod touch to help you translate Furbish as well as virtually feed your Furby along with other interactive features.
Here's a great one that I know little girls just love.  This Baby Alive Baby All Better Doll is listed at $24.94.  This comes with Baby Alive dressed , a stethoscope, diaper, bottle, spoon, pretend shot, growth chart, bandages, stickers and instructions.  Your little one will have a blast
Ninja Turtle figurines are always a favorite and this 5" one is only $9.97.  I honestly can't believe they have been around for this long, but the kids still love them.  This figurine comes with 2 weapons and a weapons accessory rack.
Lego has always been a favorite in my home and the sets they offer are pretty cute.  This Lego Friends Mia's Puppy House is $12.86.  There are many different sets and I would imagine since it's all Lego that they will interact very well with each other.  I don't often see the set of regular Lego anymore, but I will keep looking.
With everything that Walmart is offering for their Massive Toy Event, you're sure to find something, and with the holidays coming up fast, it's a good time to look.  Prices may vary depending on which Walmart location you choose.
Shipping: Based on size, weight and destination.
(Expiry: 27th September 2012)