Walmart Canada: Marvel Super Hero Mashers Figures Were $25 | Now $17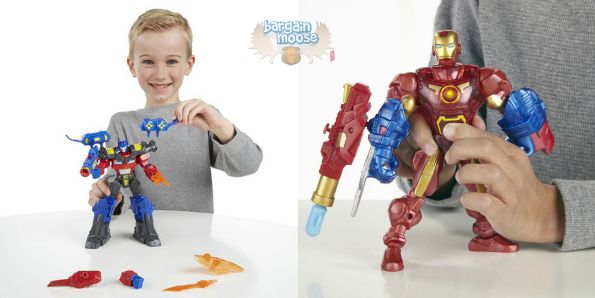 Looking for a gift under $20 for a birthday boy? Check out the clearance section at Walmart where they are selling Super Hero Mashers for only $17, down from their regular price of $24.92.
My four-year-old has been to two birthday parties in the last two weeks and the school year has just started. At this age, I know that he'll be invited to quite a few more, which is great for his social life, and can be poor on my wallet. Finding toys that on sale and selling for under $20 is perfect for this situation.When my older kids go to birthday parties I've been buying gift cards for them as they are old enough to know what they want and shop for it. I don't do that for the little ones because that just adds another element of stress on to the mom. If I give her five-year-old a gift card, you know he is going to be bugging her to go to the toy store 1,000 times over every single day. Meanwhile having just got a bunch of gifts, he will be overwhelmed enough with the gifts he got. Kids that age want presents to open, not plastic cards.
But then you have the issue of what do I get this kid I barely know?? My advice is to stockpile a few cool toys in the price range you like to spend, so you always have one on hand. This is also a great idea if you want to have toys around for the grandkids or your kids when they do something awesome and you want to reward them.
There are quite a few of these sets on clearance:
There are other sets on clearance at different price points, so you might want to check those out as well. Reviews are varied, but the Optimus Prime set has two reviews giving it five stars including:
My son loves this toy. Going to get a few more to give to my nephews for Christmas
and
My 4 year old son loves these. Durable and always making his own creations
As always, shipping is free on a $50 spend at Walmart. I would take a look at getting three sets and have your shipping become free. You can also get it shipped for free to a Canada Post location.
Checking for prices at other retailers, I only came up with Toys R Us, where these sets sell for the regular price of $24.99.
(Expiry: Unknown)